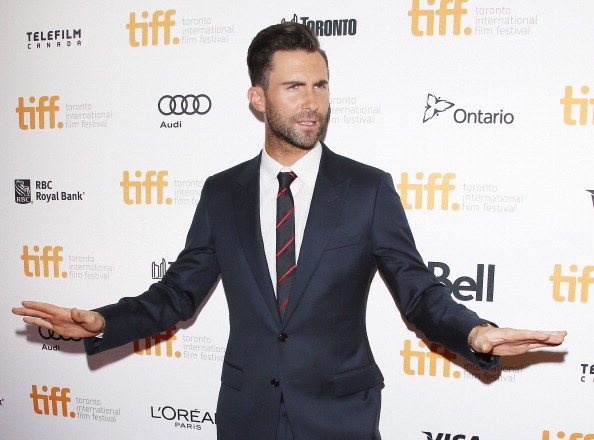 Attention Kmart Shoppers!  Television and music heartthrob Adam Levine is currently on his way to conquering the world of discount department store fashion. The Maroon 5 lead singer and star coach on "The Voice" is releasing his first line of womenswear at Kmart. Now every woman can feel that they "will be loved" by Levine by dressing is his fashions head to toe (that was a Maroon 5 song reference in case you missed it).
Levine is expanding his Kmart fashion line with the launch this Thursday of a women's clothing collection. The Sexiest-Man-Alive launched a menswear collection exclusively for Kmart in October and hopes to "replicate that simple yet sophisticated style for a woman," he said in the statement. His menswear collection was super successful, so developing a women's line was the natural next step.
"The [men's] line is tracking well ahead of plan, which is exciting. We couldn't be happier with the launch and the performance. There is nothing on the floor that is not working," said Bernt Ullman, President of Kmart parent company Sears Holdings, told WWD back in October 2013. Ullman added that Levine's men's line was on track to be the retailer's most successful celebrity collaboration ever.
The singer/actor/designer/coach/sexy man super hybrid is very popular, so it's no surprise his clothes are too. The new women's summer collection includes flowy, light tank tops, sundresses, t-shirts, short skirts and denim cutoffs in summery prints and colors perfect for your next summer music festival, concert, or other outdoor event. "It's trendy Coachella style minus the cash,' says Fashionista.com Assistant Editor Nora Crotty. Who doesn't love a good Aztec print maxi dress? There are also floral adorned kimono tops, colored twill shorts, crocheted bralettes, an assortment of denim, and a lacy sheer blouse.
Said Levine in a statement, "The best thing about designing a women's collection is that I was able to create pieces that I would like to see a woman wear." One can definitely picture Levine's fiancé, Behati Prinsloo, rocking these pieces at one of his shows, just like Levine says he designed the men's collection with his own style in mind. The musician described his menswear collection as "designs that I would actually have in my closet" and "basic, simple, and timeless."

The collection launches in Kmart stores and online Thursday, April 10. Prices range from $12.99-$29.99 for apparel and $6.99-$29.99 for accessories.
(Photo by Michael Tran/FilmMagic)