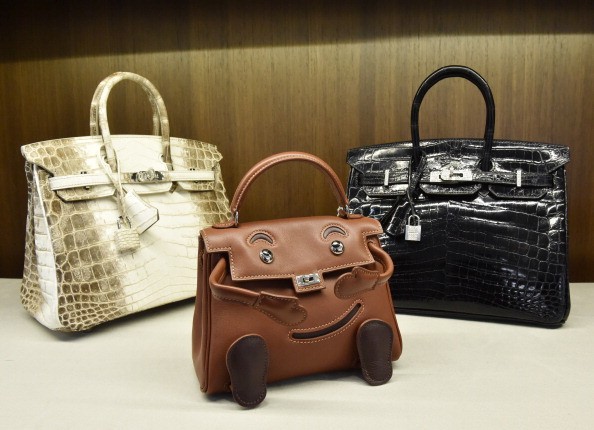 Remember the episode of Sex and The City when Samantha is waitlisted to buy a Birkin Bag? She really, really wants one, because the Hermès purse is a status symbol of wealth and success. "When I'm carrying that bag," Samantha says, "I'll know I've made it." Women everywhere nodded in agreement, as the Birkin has been symbolic of power, fortune, and high fashion since its creation.
The Birkin bag, handmade in leather, is named after actress and singer Jane Birkin. The bag is a symbol of wealth because of its high price and usage by celebrities. The price ranges from $7,400 to $150,000, with costs escalating according to the type of materials used in each one's design. The bags are distributed to Hermès boutiques on unpredictable schedules and in limited quantities, creating scarcity and therefore exclusivity. That explains why someone would be waitlisted for a bag!
HISTORY
Hermès chief executive Jean-Louis Dumas was seated next to Jane Birkin on a flight from Paris to London in 1981. Birkin placed her straw bag in the overhead compartment of her seat, but the contents fell out, resulting in her scrambling around to pick them up. Birkin told Dumas that she had had difficulty finding a leather weekend bag she liked. Three years later, in 1984, Dumas created a black supple leather bag just for her, based on a design he came up with in 1982. Birkin used the bag for herself, then later stopped because she was carrying too many things in it. She reportedly said that she thought the bag could bust her arm, due to its heaviness. Neverless, Dumas created more and the bag has since become an icon.
DESIGN
Birkin bags are sold in a range of sizes: 25, 30, 35, 40, 50, and 55-centimeter bags, with the larger ones meant for traveling. Each one can be made to order with different customer-chosen hides, colors, and hardware fixtures. There are other made-to-order options, including diamond-encrusting, for the wealthiest of patrons. Customers can choose their bag's hide from calf leather, ostrich, crocodile, and lizard skins. Larger scaled bags cost less than bags consisting of hides with smaller scales (fascinating!). Birkin's are lined with goat-skin and the color of the interior is made to match the exterior. The bags come in a variety of colors, including pink, red, brown, baby blue, navy blue, olive green, orange, white, black, and golden tan. Prices for the Birkin bag depend on the chosen color, hardware fixtures, and skin.
The Birkin comes with a lock and keys. The keys are enclosed in a clochette, or a leather lanyard, that are looped through one of the bag's handles. The Birkin is locked by closing the top flaps over buckle loops, wrapping the buckle straps, or closing the lock on the front hardware. Locks and keys are number-coded. The metallic hardware (the lock, keys, buckle hardware, and base studs) are plated with gold or palladium to prevent tarnishing. Hardware is updated regularly to maintain the top quality available in the industry at time of production. Custom options include covering the metal lock in leather or adding diamonds.
Hermès offers a special reconditioning "spa treatment" for used bags. Birkin bags probably get treated as well as some people's pets or children.
CRAFTSMANSHIP
The bags are handmade by expert artisans in France. One of the Birkin's distinctive features is the company's signature saddle stitching, developed in the 1800's. Each bag is hand-sewn, buffed, painted, and polished, and takes several days to assemble. The average Birkin takes 48 hours to create. Leathers are obtained from different tanners in France, resulting in varying smells and textures and each bag's distinct individuality. Hermès justifies the excessive cost of the Birkin based on the meticulous craftsmanship put into each one and the low number of bags produced overall.
DEMAND
The Birkin is one of the most recognized bags in both the fashion industry and by those in the general public. The waitlist had a reputation for lasting up to six years, which is the longest wait for any bag in history. But in April 2010, Hermès announced that the waiting list would no longer exist, implying that it is potentially available to all. Let the Christmas wish lists begin!
(Photo credit STAN HONDA/AFP/Getty Images)