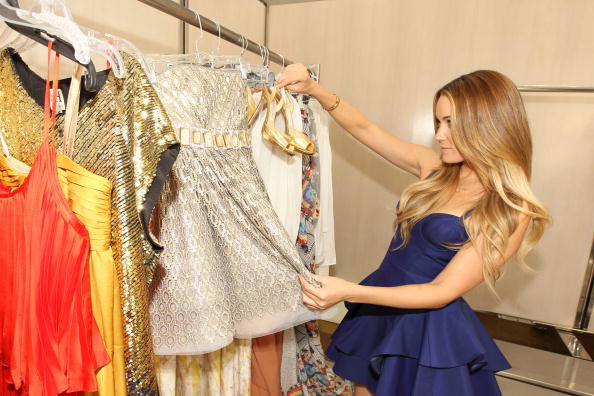 She's come a long way since her days on Laguna Beach and The Hills, and she's even more stylish than ever. Lauren Conrad was always so stylish, even as a teen. She's really managed to grow into her own personal style as an adult, and now as a wife, and she's become one of this generation's most iconic style mavens. She's got her own clothing line, her own style and her own personality, and she's always willing to share her style secrets with her fans. If you're like the rest of us, you absolutely want to steal her style.
We have done a little research (and by research we mean stalking) and learned what it is that make Lauren Conrad such a stylish woman. Want to know what that is? It's a mixture of so many things, and we can teach you how to be just as stylish as LC with your own personal flair. Keep reading to find out how to steal her style.
Highlight Something You Love
For Conrad, it's her waist. She loves to define her waist with belts, showing off her svelte and gorgeous figure. You can do the same thing with your favorite feature, whether it's your legs or your eyes. What LC does is add a belt to her favorite pieces as well as choose clothing items that highlight her waist without drawing attention away from it. You can do the same thing; just choose a feature and work everything else around it.
Stay Simple
If there is one thing LC brings to the fashion able all the time, it's simplicity. She knows that you don't have to be over-the-top to be stylish or noticeable. She's a fan of demure colors, showing off only one body part at a time and always choosing items that are more elegant than trendy. She's a fan of the timeless elegance of old Hollywood, and she often manages to make that concept work in a modern manner. LC never overdoes the accessories, picks gaudy pieces or adds too much of a good thing to any outfit. Keep it simple, and you'll keep it stylish.
Keep it Classy
You're not going to find LC rocking a dress so short she flashes everyone getting out of the car. You're also not going to see her bra straps. She's going to rock her look in a way that's always classy. You're not going to see too much cleavage, too much leg or too much of anything. She is nothing if not elegant all the way. A good rule of thumb when it comes to borrowing her style is to keep things appropriate at all times. If you wonder if it's going to be appropriate, it's not.
Photo by Christopher Polk/Getty Images for Got Milk