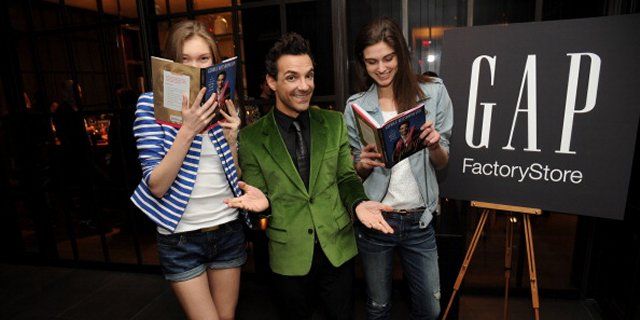 Megabrand Gap has a new creative director, Rebekka Bay, and her vision is to take the clothing back to basics. "I just want to take it back, really," Bay told Fashionista.com in Dec., 2013. "I think Gap has always been the greatest iconic American casualwear brand, and that's really what I want it to be. I want to own super casual, iconic pieces and be the go-to brand for the wardrobe — almost like building blocks." One of her first steps? Creating an ad campaign that has a 90's style casual coolness and that stars young, hip celebrities and artists shot portrait-style by David Sims. Examples of photo subjects? RJ Mitte, who you may know by his famous character's name, Walter White Jr. (Breaking Bad) and Adam Driver, aka Hannah's boyfriend, Adam, on Girls.
The campaign is titled "Lived-In" and is meant to look less like models wearing a brand or designer's clothes and more like real people wearing their real clothes. Authenticity is now the focus. The photo shoot's style is similar to Gap photo campaigns of days gone by, complete with lots of denim, washed-out colors and a simplistic, casual wardrobe, but supposedly the clothes and the new ads are meant to look even more effortless, relaxed, and casual than in the past. "For spring, we've recognized the brand's iconic pieces — khakis, denim and tees — as the focal points, and through the feel of the fabric and shade of colors, brought 'Lived-In' to life through design," said Bay.
A strategy that's not so focused on being casual? The revolutionary, high-fashion move Gap made when they partnered with Vogue on the first-ever tactile fabric print ad, displayed in the magazine's March issue. The ad included a fabric logo made from the cotton of a worn-in Gap T-shirt. Whether you relate with the new ad campaign or not, Gap has long been a staple brand in our culture and a must-visit when buying new jeans, sweaters, pea coats, work blouses, or other pieces considered classic American casual wear.
The rest of the campaign features musician Theophilus London; English singer-songwriters Birdy and Anna Calvi; American actress, Julia Garner (The Perks of Being a Wallflower); Swedish photographer Lina Scheynius; and American singer-songwriter and record producer Ernest Greene (aka Washed Out).
Photo by Bryan Bedder/Getty Images for GAP