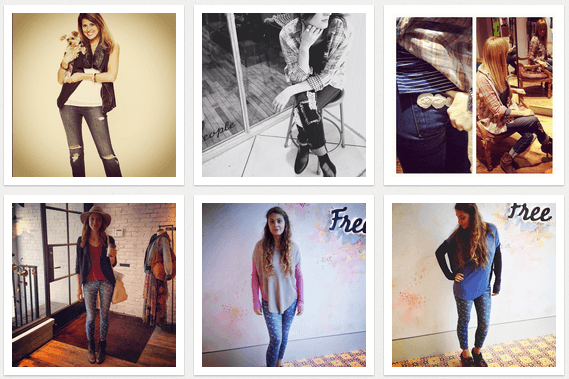 Free People is an American apparel and lifestyle retail company that has a bohemian, flower child aesthetic. The brand sells women's clothing, accessories, shoes, intimates, and swimwear and is a part of Urban Outfitters, Inc. Free People has always developed successful catalogs full of hippy-looking models, including some of the biggest in the business. Karlie Kloss, Anja Rubik, and Joan Smalls have lined Free People's catalog pages.
The clothes are just perfect for summer festivals and backyard bbqs, making the monthly print catalogs not just fun to look at but an editorial treat thanks to its free-spirited style and purview. But Free People is doing something different this time around. They're losing their tried-and-true formula (models + scenery + hippy hairstyle = selling clothes) and is replacing it with a new Instagram campaign.
The company has recruited 27 models, bloggers and stylish, somewhat-famous people and will have them post "selfies" while wearing Free People clothing. The selfies will actually be the product of 14 days' worth of professional photoshoots taken in L.A., New York, Paris, and London. But the pictures will look as casual as the selfies you take while trying on clothes or after picking out a particularly cool outfit from your closet.
The Instagram images will appear in the Free People print catalog that follows.
Since the company can get some of today's major supermodels, why are they using these no-names to promote the line? Maybe to join in on the trend that other fashion companies have turned to. Rag & Bone were pioneers with its "DIY" project, which gives girls a pair of R&B jeans, a camera, and free rein to take whatever pictures they want, which are then posted on a special R&B website. CK One and Equipment have both done similar projects in recent months. Free People has cultivated an avid social media following through integrating customer photos onto its product pages and as part of its online community platform, FP Me. These kinds of opportunities make wearers feel appreciated and invested in the products. These social media projects, without a doubt, inspire shopping.
Most of the Free People campaign stars have tens, if not hundreds or thousands of Instagram followers. This is a great tool for Free People to access the various, often intersecting followers of their "models." The one exception to this rule is Michelle Collins, a Free People customer and user of FP Me, that the brand brought on board to honor its fans. Collins' has about 1,440 followers, which is still not too shabby.
(Photo courtesy of Instagram)