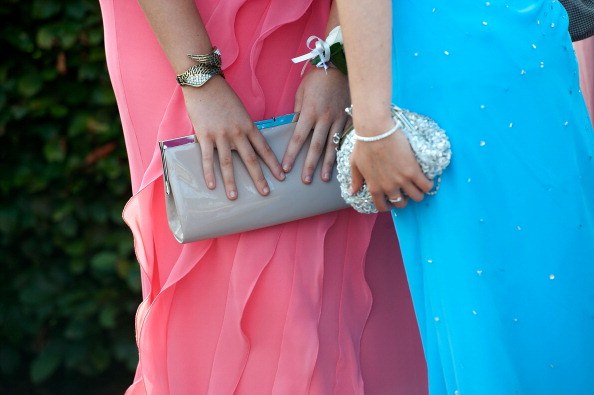 The prom is the teenage equivalent to a wedding; gorgeous gowns, perfect hair and a night of dancing that will forever be remembered with fondness. Teenage girls look forward to prom night their entire high school career. A few lucky girls will go to more than one prom and get to experience the magic on multiple occasions. However, even those girls won't mistake the special feeling that comes with your own prom; that last dance as a senior in high school. The night in which you get to dance for hours, laugh with friends and make memories one last time before everyone goes their separate ways to college.
Prom is magical. Prom is also very, very expensive. It's the night that costs upwards of a thousand dollars by the time you consider prom dresses, shoes, accessories, makeup, hair appointments, nail appointments, spray tans, photos, tickets and everything in between. And prom is not cheap for boys, either, even though they don't have to buy dresses or get their hair done. They still have to pay for dinner, limos and flowers. It's a very expensive night; and not everyone can afford the fairytale moment that is the prom. Fortunately for girls looking for the perfect prom dresses (on the cheap side) we have some great suggestions that will save a bundle.
Check Out Bridal Salons
No, we are not suggesting you look for a bridal gown. We are merely suggesting you look for a bridesmaid dress that has all that you're looking for in a prom gown. You probably won't find a big princess gown here, but you will find something that's a bit more form fitting, perhaps one-shoulder and most definitely in a gorgeous color. Bridal salons issue sales frequently, especially on bridesmaid dresses, since they have new looks appear every season. You can find these dresses on sale frequently, and it's one way you can save a lot on a prom dress.
Shop in Advance
Okay, so this won't work for everyone. However, if you're the kind of girl who prefers classic style to big trends, you can start shopping for your prom gown a year before you go. This is going to save you a bundle, and allow you to find the most gorgeous prom dresses on sale for prices that are considered insanely cheap. Why? Because a classic dress never goes out of style, and prom dresses begin going on sale around June every year once prom is over and department stores and dress shops are looking to get rid of their stock.
They want to say goodbye to all the dresses they didn't sell when girls were prom dress shopping. It's not uncommon to walk into Macy's or Nordstrom and find prom dresses for sale for 75% off in June. Proms are over and these stores have nothing else to do with these gowns except get rid of them. They're not big sellers the rest of the year, so they're wasting space that the stores could be using to house other items that are more popular and in-season.
If you prefer a classic silhouette, this is a great option. However, if you're a super trendy girl, you might want to avoid this. What's trendy this prom is likely not going to be very trendy next prom. But remember; as you grow older, you will learn that classic, timeless style trumps trendy style every day.
Rent Your Dress
Have you ever heard of Renttherunway.com? Me either; but I just did some digging and it turns out you can find dresses on this site designed by the most famous designers in the world; and you can rent them. That's right. You can pay a tiny portion of the price of a designer gown and rent it for four days, sending it back when you're done with it so that you can have a haute couture dress.
You don't have to have a department store dress. You can wear a designer gown by Ellie Tahari or Diane von Furstenberg for anywhere from $30 to $200 and just send it back. What's so great about these prices is that these are prices for dresses that sell for more like $495 – $1000 in stores if you want to purchase them. We have the alternative; rent them and send them back and have the dress of your dreams for next to nothing. If you're looking for a cheap way to find prom dresses, this is it. You can even get the dress in two sizes – free of charge – when you rent here just in case you're not entirely sure which size will work best on the night of prom.
Have a Dress Trade
Get your friends together and start swapping dresses. No one likes to wear the same thing twice, but that doesn't mean you wouldn't love to wear your besties dress from last homecoming or that wedding she was in over the summer, and she might kill to wear that dress your parents bought you for your summer cruise's formal night.
The best way to do this is to get a lot of girls together and ask them to bring their formal gowns. Anywhere from 5 girls and up is best because it gives you a great variety; and if you can get girls from other schools that you might not even know, it's even better. Let your friends invite their friends and invite their friends, and cousins and sisters and what not. The more the merrier; because you have a much larger selection and a much bigger pool to choose from.
Best of all; your prom dresses are free when you do this. No one has to pay for anything, and we're willing to bet even your parents will get on board with this one since those expensive gowns they paid for in the past are no longer hanging unused in the closet collecting dust in their dry-cleaning bag. No one likes to spend hundreds on an outfit they're only going to wear one time.
Photo by Bethany Clarke/Getty Images