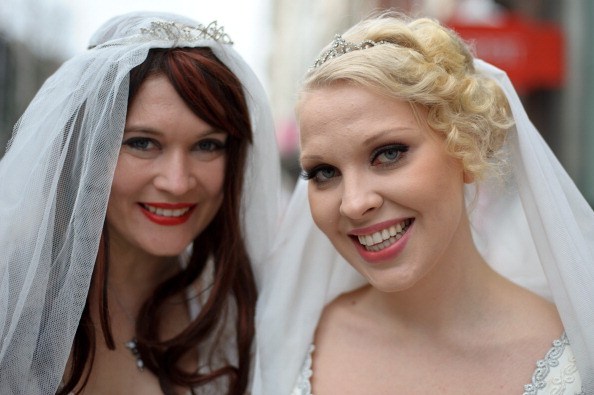 Weddings mean glamour and style; the bride and groom both want to look stunning as they exchange their vows. For this reason, many women spend months researching the perfect hairstyle. It has to go well with her dress, it has to be strategic if the bride has long hair and a gown with a back she wants to show off, and it has to be elegant and stay put for the duration of the ceremony and celebration. Here are five amazingly beautiful wedding hair suggestions.
Half Up
Some brides like the look of an updo but want the softness of hair that's down. A half up style is perfect, especially when it is pulled to the side and curled softly. Try a half up style that includes pinning a bit of the top of the hair back and pulling the rest of the hair around one shoulder, curling it softly.
Chignon
This elegant and sophisticated hairstyle never goes out of style. This year, try yours pulled a bit to one side of your head and try pinning a large, lovely flower (white is chic) to the top of the chignon. You'll get a looks that's sophisticated and chic, and the perfect excuse to buy dress with a plunging back or gorgeous lace detail.
Down
There's nothing more beautiful than a woman with her hair down. Part yours down the center and have your hairstylist add some soft curls to make your hair look romantic. It's a style that's elegant and a little feminine, but still perfect for photos. Your groom won't be able to stop smiling ear to ear.
Braids
If you're looking for a style that incorporates more boho chic than anything else, you're going to want a big French braid. The trick here is to make it a loose braid that goes from one side to the other so that the braid trails romantically down the side of one shoulder. Add fresh flowers in strategic places for a finishing touch that's both feminine and bohemian.
Messy Updos
Updos are always a wedding favorite, and this one is no exception. Not all women want to look chic and have smooth hair. There's always that woman with wild curls and unruly elegance. This means a messy updo such as a bun is going to be perfect. Leave some tendrils loose and flowing to frame your face for a perfect look that's wedding appropriate.
(Photo by Ben Pruchnie/Getty Images)