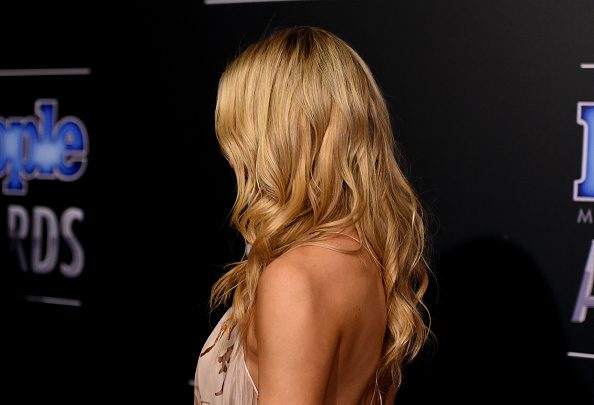 It's going to be 2015 before you know it. No, really, it's going to be 2015 in less than two days so you have about five minutes to figure out how to style your hair on New Year's Eve. It's not difficult if you have a dress and you have a destination in mind, but you still need to find a way to create a gorgeous 'do that's going to impress – even if you just want to impress yourself. Your hair doesn't have to be perfect to be fabulous, but it does have to be comfortable and easy to manage throughout the night. We have a lot of ideas as far as where you can go and how you can style yourself to work with the occasion. So, no matter what you are doing, go ahead and take a look at our simple suggestions for New Year's Eve hairstyles for any occasion.
Sleek and Straight
Going out for a night of dancing? Let's us suggest to you that you go out with a long mane of sleek, straight hair that will stay put all night. Curls tend to fall when you get to busy dancing and sweating, but a sleek 'do is only going to stay as sophisticated as it was when you arrived. Just be sure to part it down the middle and don't forget a little hairspray to keep fly-aways at bay.
A Big Bun
Is your dress going to show off your bare back? If so, go for a top-of-the-head bun that's going to look amazing. This is going to show off your gorgeous shoulders and the back of that killer dress and it's going to be out of your face all night long. Just make sure you go sleek all the way with the front to keep it elegant.
Pulled Back in Front
Wearing it down and out of your face is a difficulty no one likes to face alone. That's why we love the concept of keeping your hair out of your face with a cute bump up or to the side that consists of just your bangs, a few pins and the rest of your hair down. You can dress it up or down; either one is fabulous.
Victoria's Secret Angel Curls
If only we woke up looking like this; but we don't. Using a big barrel curling iron, make some loose, casual waves all around your hair, concentrating on the pieces in the front. Spray it well and let it go. It's wild, free and fun, and it's extremely stylish for any occasion. NYE doesn't stand a chance with hair this gorgeous.
A Messy Bun
We love a messy bun. And we love it even more when it is paired with comfortable yoga pants, an oversized sweater, fuzzy socks, a great looking husband, sleeping kids, a bottle of very dry red and season two of Scandal on Netflix on NYE. Oh, sorry, I'm talking about how I'm spending NYE this year (and looking forward to it!). Either way, not all of us go out on this night. Some of us are a little bit older now (read: Tired) and we like to stay in, relax and actually enjoy our homes for the first time all season, and that means a messy bun is perfect. End of story.
Photo by Jason Merritt/Getty Images