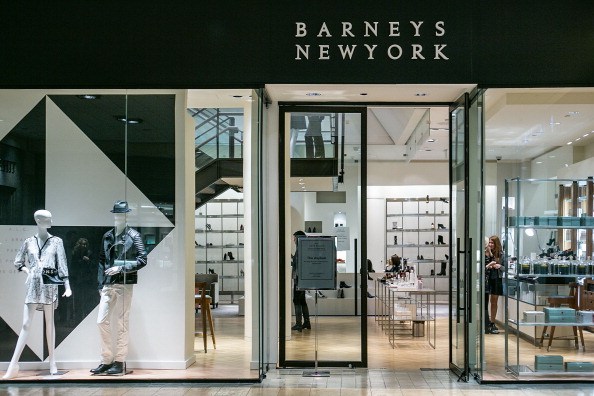 Ladies, do you ever wish you were one of those women who could walk into a department store, point to anything you want, have salespeople run around gathering them up, and then leave with all of them? This is a shopping fantasy most shopping lovers have had, perhaps while watching one of their favorite movies.

Starting with this entry, from time to time we will go online fantasy shopping together. First stop – the high end luxury department store, Barneys. Barneys is one of the most renowned stores the world has ever known, headquartered in New York, and featuring the highest quality of modern fashions. Designers dream of getting their goods placed on its racks or shelves. Brands sold include a number of high-end labels such as Saint Laurent Paris, The Row, Balenciaga, Rick Owens, Burberry Prorsum, Dries Van Noten, Thom Browne, and Bettanin & Venturi, as well as Barneys private label merchandise. Besides Manhattan, Barneys are located in the U.S. in Beverly Hills and Chicago.
Barneys is the kind of a store a woman dreams of shopping at. Whether you can in actuality or not, we can have fun here together with this five item wish list. Here are five of the season's hottest contemporary items currently available on Barneys online store. Remember when you see the prices that this is total wish-fulfillment online shopping, in which money is no object!

1) Rick Owens Leather Funnel-Neck Long Moto Jacket, $3,605
This gorgeous jacket is perfect for fall. Made from black lambskin leather, it has a convertible funnel-neck and rib-knit wool panels at the sleeves. The inside is lined in cashmere (warm and cozy!) and the asymmetric zip-front closure is funky and interesting. The jacket has tons of texture and is a knock out, unique, attention-grabbing coat.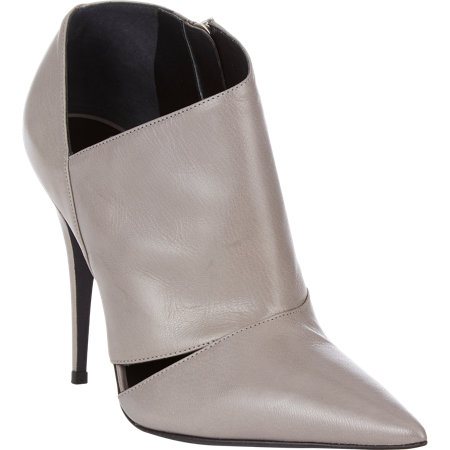 2) Narciso Rodriguez Carolyn Cutout Ankle Boots, $995
How gorgeous are these shoes?! The grey goes with everything in your closet and they could be worn in any season but are simply perfect for the cool-but-still-sort-of-warm September and October nights. You would own these for forever. They are also available in black.
3) Monique Lhuillier Lace-Back Jumpsuit, $1,995
This statement piece is made exclusively for Barneys. It is classic but also very modern and fashion forward. The wide leg style looks both chic and comfortable and the piece even has pockets. The back lace is a touch of sexy but the suit is still work appropriate, in addition to being equally ideal for a night out on the town or Sunday brunch. Basically, this is a wear-anytime jumpsuit and can be accessoried in so many different ways!
 4) Stella McCartney Falabella Shaggy Deer Foldover Tote, $1,210
This new design is a goes-with-everything bag that can be worn in two very cool and different ways. Made with vegan-friendly faux leather, the bag has whipstitched trim accented with metal chains and polished gold tone hardware. The chains can be used as a shoulder strap when the top of the bag is folded over into a large clutch-like shape. The emerald green color is unique but simultaneously very versatile, but the bag is also available in cream and black.

5) Givenchy Twisted Drape-Front Sleeveless Blouse, $1,690
This top is simply gorgeous. The bright, crisp red is vibrant yet easy to wear and the special, dramatic draping is beyond stunning and very distinctive. The blouse is made from silk crêpe de Chine, is loose-fit and sleeveless, and has a key-hole closure in the back. You could wear this shirt as easily to work as to a fancy dinner or casual lunch.
What we wouldn't give to own them all, right ladies?!
 (All shopping photos courtesy of Barneys.com)
 (Lead Photo by Suzi Pratt/Getty Images for Barneys New York)