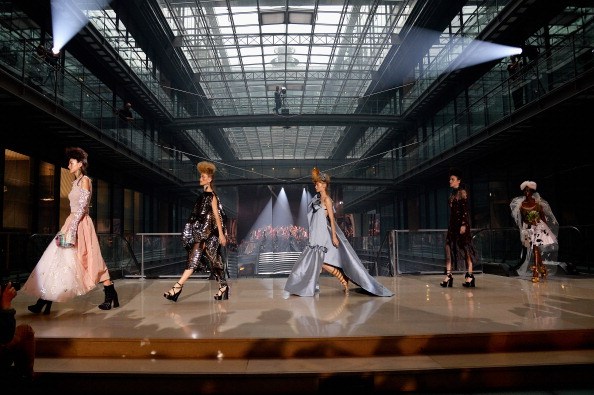 The world's major Fashion Weeks continue on, finishing up in Milan earlier in September and moving on to Paris. The show is held semi-annually in Paris, France with spring/summer and autumn/winter events held each year. Currently, designers are showing their Spring/Summer collections for 2015. Fashion Week is held in the Carrousel du Louvre, as well as at various other venues throughout the city. The runways feature the biggest models in the world, including Cara Delevingne, Kendall Jenner, Miranda Kerr, Karlie Kloss, Gisele Bündchen and Joan Smalls
It's impossible to pick favorites from the long list of designer presentations but it is a blast to try. Here are some of the standout collections seen so far in France's beautiful capital.
Alessandra Rich
Ms. Rich's SS15 show explored a mythical muse named 'Jessica', a girl who, "gets up late in the morning, puts on her jewelry and dives into the pool," said the designer. The line up for Spring/Summer 15 stars Rich's go-to aesthetic at the core – beautiful, flashback to another era, full-length eveningwear, in addition to more casual looks that peppered the collection. "Attractive people doing attractive things in attractive places" was the Slim Aarons quote plastered across Rich's collection notes for the collection, and you can see why the vintage society photographer's words resonated with the collection.
Maison Rabih Kayrouz
The designer told Yahoo.com that the starting point for this season's collection was "the same woman I always dress; I am drawn to this woman who always wants to leave comfortable places. She flirts with danger." He summarized the collection in one word: "Fun." The bright colors and beautiful red floral pattern would be a knockout on any woman, whether she flirts with danger or not. The clothes actually look easy to wear and perfect for a warm vacation or hot date night.
Givenchy
Hard-edged romanticism ruled the Givenchy runway. Models showcased a palette of mostly black and white ensembles, which featured intricate lace, embroidery and bouncy ruffles. However, thigh-high leather boots and disappearing eyebrows gave the feminine styles an added edge and created a nice contrast.
Elie Saab
Elie Saab collection was outstanding, due to a dose of originality and bold attitude. The designer's Spring 2015 collection relied on tropical reef hues such as yellow, coral and orange, matched with blues inspired by the Amalfi Coastal waters and greens from the Andaman Sea. The show featured slinky jumpsuits, slim-fitting trousers and a lace-trimmed bomber jacket and playsuit. There were also drop-dead gorgeous evening gowns made of chiffon, while cocktail dresses featured lace accents and embroidered detailing. This was my personal favorite collection and it was hard narrowing down which photos to put here. Everything was chic, sexy, and fashion-forward while also looking wearable for any given woman.
Emanuel Ungaro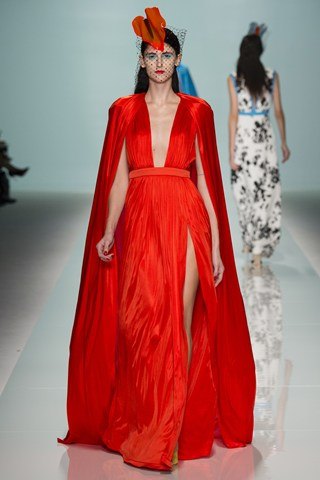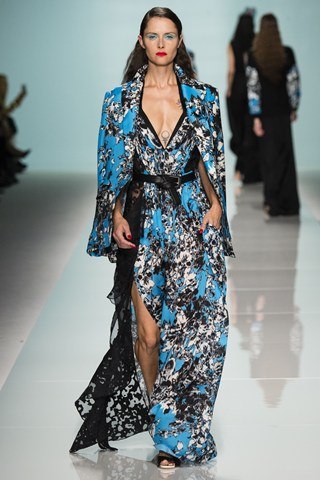 Ungaro designer Fausto Puglisi told WWD backstage, "I am a happy person. I love life, so when I design for spring, I like to think about color and I think, 'Bang!'" That "bang" was evident in Ungaro's bold lineup and was heard in the loud acid to electric hues and in the fun, flamboyant silhouettes. Puglisi was giving a nod to the label founder's Eighties heyday, and the decade's inspiration is clear in the designs. The designer used archival floral prints and reworked them digitally into a mash-up shown in tailored coats and flowing dresses. Puglisi bookended the show with looks he described as "Roy Halston meets Ungaro," such as slinky goddess dresses with plunging necklines. The final numbers added extra dramatic effect by adding capes.
(Runway photos courtesy of Vogue.com)
(Lead Image by Pascal Le Segretain/Getty Images)