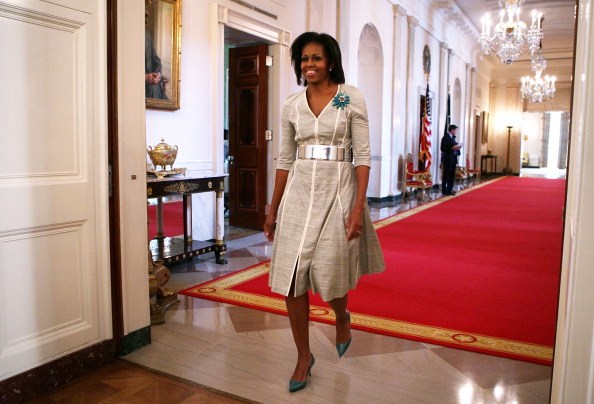 Whether or not you agree with her husband's politics, one thing we can all agree on is the fact that First Lady of the United States Michelle Obama has great style. She's a fashion icon. She's typically casual and she's always put together. However, she certainly knows how to step up her fashion game when the occasion calls for something a little more appropriate. Here are our five favorite dresses the FLOTUS has ever worn – and most of them show off her killer arms.
Doo-Ri Chung
At a state dinner for the South Korean President, Mrs. Obama stunned in a simple gown by Doo-Ri Chung. The gorgeous purple dress is as simple as can be, and it shows off her gorgeous arms. With one shoulder and a simple waistline and slim skirt, the dress isn't over-the-top. It's just right. Paired with a sparkling emerald belt, the First Lady wore her hair short and only donned a pair of simple earrings with the dress.
Marchesa
Another full ball gown for the FLOTUS; and she looks as stunning as ever. The gorgeous emerald dress was designed by Marchesa. The first lady paired the stunning gown with a simple choker necklace, soft, loose curls and demure earrings. The off-the-shoulder straps show off her toned arms and her narrow waist is accentuated by her nipped waistline. This gown was the perfect choice for the Kennedy Center Honors Reception in December 2013.
Marchesa
The FLOTUS loves her Marchesa gowns and they love her back. This stunning teal gown was worn by the First Lady when she attended a state dinner in honor of the British Prime Minister. Looking lovely as ever in the deep color, she paired the off-the-shoulder gown with several big, bold pearl necklaces layered together to complete the look with a bit of excitement and a statement.
J. Mendel
No one's arms look better than the First Lady's did in this gorgeous deep red gown. The one ruffled shoulder simply amplified the fact that this is a lady who works out hard. A simple updo and earrings complete the look with an elegant touch of class. Mrs. Obama certainly knows how to accessorize her gorgeous gowns.
Vera Wang
The year before she wore her Marchesa gown to the Kennedy Center Honors Reception, the First Lady wore a deep blue gown by Vera Wang. This stunning gown features a fit and flare silhouette with a bit of tulle and some serious form-fitting. It's gorgeous. She paired it with an updo and dangling sapphire earrings. The effect was flawless.
(Photo by Alex Wong/Getty Images)