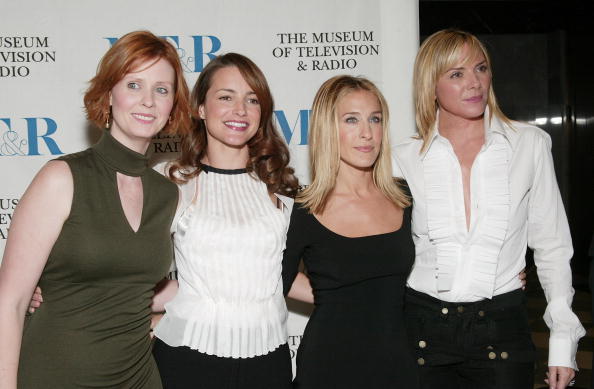 Television characters are some of the most fashionable in the world. Of course, it's easy to be exceptionally fashionable when you're being dressed by a wardrobe department with some of the most amazing stylists in the world, when you have an unlimited budget, and when you're famous and already gorgeous. However, that's not the point. The point is that some of our favorite television shows have done wonders to inspire fashion trends, and many of us see our favorite characters wearing things that we just have to have. That inspires us to change our look just a bit so that we all resemble our favorite characters. Movies are no different; remember Clueless? Cher and Deonne managed to inspire us all to think that knee socks, plaid skirts and platforms shoes were the look to go for, and we all looked like valley girls for a good year and a half following the release of that movie. Television is even worse since it's on all the time; we see the same characters week after week for years, and that makes us want to dress even more like these people thanks to their changing and evolving style. We've rounded up some of our favorite television shows with the biggest impact on fashion; both old and new.
Friends Fashion Inspiration – The Rachel
Ah…the early 90s. Possibly one of the least fashionable decades in the history of fashion, this was a time in which everyone wore unflattering jeans, grungy fashion and looks that just did not flatter anyone. No one looks back at their 90s photos and thinks, "I looked good," at any point in their life. The 90s were bad, but one good thing came from the 90s; Friends. The show about six friends living in the same area of NYC and living their lives was the best show (ever). While it might not have been the most fashionable show in the world, it did produce one of the most famous fashions in the world; the Rachel. That's right. The haircut that Rachel Greene (aka Jennifer Aniston) sported in the early episodes is one of the most famous, most iconic looks of all time, and it inspired a hair frenzy across the country.
Pretty Little Liars Fashion Inspiration – Mix and Match
These girls are trendy to the point that it's hard to deny they are stylish. Each of the girls on this show is stylish in her own right, but it's the mix and match patterns that the costume department always manages to come up with that impress us the most. We love the look of plaid with stripes, of this fabric with that fabric. We love the mix and match, and no one does that better than the girls in this hit series. Additionally, there is one other thing they do better than everyone else; they manage to make layering look so stylish. There is never a time in which most of us feel good about layers when it's cold, but this group of girls makes piling on the layers look utterly cool (haha) and we love that it's inspired so many Pinterest boards and fashion blogs.
Gossip Girl Fashion Inspiration – Preppy Headbands
Oh, GG, why did you have to leave us so soon? XoXo…Gossip Girl. We loved listening to Kristen Bell voice the mysterious GG throughout the show's many seasons (but isn't it funny when you think of her using her voice to also become a Disney princess?) and we miss this show and its many fashions. Prada Marfa, anyone (and where can we get that sign for our own great room?)? The one trend that seemed to stick out the most and catch on the fastest from this gorgeous show was the headband. Blair Waldorf (played by Leighton Meester) always wore a gorgeous headband. She was so preppy and so stylish that it didn't take long for girls everywhere to start making their own headbands. This style caught on so much that new moms began custom ordering headbands like Blair's to put on their newborn daughter's heads for photos and just for your typical outing. We love it.
Sex and the City Fashion Inspiration – Manolos
Every girl who has a pair of Manolo Blahniks in her closet has Carrie Bradshaw to thank. We all remember our first pair; and we all remember Carrie's love of these gorgeous shoes. We all know that this is perhaps the most iconic fashion trend to come from this show, but it's not the only one. Carrie and each of her friends had a very distinct style that we all took a little something from. However, none more so than Carrie herself. Her always slightly off-the-wall ensembles seemed to work. She's might be the only person in the world who can pull off a tulle skirt and a jean jacket and still look elegant, but everything she ever wore served as a complete inspiration for all of us. Every time we see an episode on repeat, we still find something in her outfit that speaks to us, or we manage to draw inspiration from something she's wearing that we can apply to something in our own closet today. She ends up going down in history as the most stylish woman on television.
Mad Men Fashion Inspiration – Modest Dresses
Set decades ago before shoulder pads and crop tops and other horrible styles became famous; the women of Mad Men (and the men) have inspired us to up our style game just a bit. The men look wonderful in their skinny ties, but it's the women in their fitted dresses that really serve as fashion inspiration. They have a way of making sure they are noticed and that they look amazing, all without showing off too much. You don't see ridiculously low necklines and short hemlines here. You see modest dresses fitted to perfection. They're molded so well to the actresses wearing them that we wish we could have their tailor come to our home and fix everything in our closet.
Photo by Evan Agostini/Getty Images