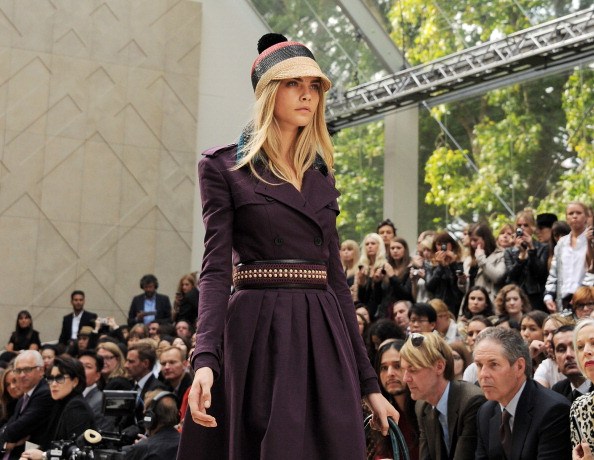 The beauty of Burberry is their gorgeous cold-weather wear. The high-end designer is known for its luxe coats and boots, and it's inclement weather wear. That's why anyone with style and the money to spend heads straight to the luxe designer to search for the most gorgeous winter coats on the market. They're timeless, elegant and completely chic. The most sophisticated shoppers in the world know that Burberry is the only outwear appropriate for cooler weather.
The Sandringham Short Heritage Trench – $1,595
This lovely coat hits just below the hip for a sleek fit. Its soft honey color is perfect with any ensemble and for any occasion, and it's a slim fit. It's a very casual coat that's designed for weekend errands and time in the country. It is, however, a very desirable coat for all women.
The Sandringham Long Heritage Trench – $1,795
The only difference between this trench and the short one is the length. This one is more appropriate for formal matters, such as work and dinner outings. Its longer cut is going to offer a shade more elegance to any ensemble, and it's going to make a woman appear a bit taller and leaner.
The Kensington Long Heritage Trench – $1,795
The Kensington long trench is one of the most popular in the Burberry collection. This gorgeous coat has a fitted bodice, a tie waist and details that are eye-popping. It's not much different from the other long trenches in this particular collection, but it's just as appealing.
Hand-Painted Collar Gabardine Trench – $2,495
This lovely honey color is perfect for the women in need of an elegant trench for winter weather. The heavy cotton Gabardine is perfect for the coldest of winter days, but the hand-painted floral collar makes it just as little more elegant than the traditional trench. It's a fit cut with gorgeous attention to detail.
Deerskin Trench – $3,995
In midnight blue, nude blush and elderberry, this gorgeous trench is going to make a statement unlike any other. Made with a double breast out of soft deerskin, this coat has the long, fitted silhouette and the fitted waist women love about Burberry coats. Additionally, the belted cuff and gun flap make this coat oh-so desirable.
Photo by Dave M. Benett/Getty Images