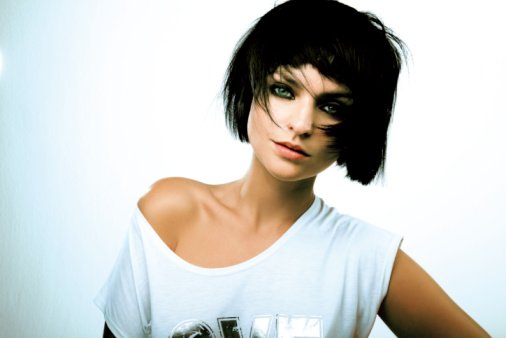 Lately, the fashion world has been looking to the rock-and-roll lifestyle for inspiration, designing stenciled tough leather vests and biker jackets and casting lanky musicians in runway shows. My idea of looking to rock and roll for fashion choices? A chic, slim-fitting band T-shirt. What's cooler  than a woman wearing a rock and roll T-shirt? Nada. This look shows that you are confidant and passionate about music, something that everyone everywhere can respect and admire. Throwing on a cute rock and roll T-shirt is the perfect look for so many occasions – heading out for a casual meal, hanging out with friends at a home, or dressed up with a pair of boots and a shrunken jacket for a night on the town. If you are like me, then you have a dresser drawer full of concert T-shirts that you consider a prized collection. But if not, it's never too late to start! Here is a list of five band T-shirts to get you started.
1) The Beatles
John Lennon, Paul McCartney, George Harrison and Ringo Starr together have became widely regarded as the greatest and most influential act of the rock era. The Beatles are considered the best rock and roll band ever for many reasons, but their ability to experiment and have fun with music (see the White Album for perfect examples) also made them one of the most innovative groups. Additionally, they also become the embodiment of the ideals shared by the era's sociocultural revolutions and lifestyles. A total classic and staple rock band in every way, their T-Shirt is exactly the same. I would bet money that all day people would be saying "cool T shirt" to you after you put this on.
2) Nirvana
Nirvana only released three full-length studio albums in a seven-year career due to the death of lead singer Kurt Cobain in 1991, but they are regarded as one of the most influential and important rock bands of the modern era. The band that made David Grohl a household name has a totally funky logo (a smiley face that looks like its had one too many). A T-shirt with Nirvana's name or logo will be a conversation starter everywhere you go.
3) Guns N Roses
Guns is one of the best-selling bands of all time. They define such a particular era and frame of reference – the late 80s and early 90s grunge/hard rock mixed with excess and hedonism (as band members were big fans of getting their party on). Guns N' Roses have been credited with reviving the mainstream popularity of rock music, at a time when popular music was dominated by dance music and pop metal. So they really are the definition of their time period's rock music. Guns was considered reminiscent of the early Rolling Stones and they are just as influential. Celebrate this band with a T-shirt bearing their circular logo featuring both roses and guns.
4) Rolling Stones
Speaking of the Stones, wrap yourself up in the band itself. Up there with the Beatles as being considered perhaps the best band of all time, the Stone's, and particularly their lead singer Mick Jagger, embody appeal mixed in with good, fun music. Their lips logo is probably the most popular band logo ever, so throw those lips on your chest and walk out your front door.
5) Your Favorite Band(s)
I believe nothing makes a rock fan feel prouder than wearing your favorite band's T shirt. Is your favorite band an under-the-radar band that not everyone knows? Then your T-shirt becomes an instant conversation starter. Help spread the gospel! My Black Crowes T-shirts that I bought at their concerts are prized possessions to me. By wearing their shirt, you are supporting the band and showing your love. And every time you reach for that T-shirt, you will be reminded of the amazing night you had at their live show or, if you haven't been to a concert, you'll instantly envision your favorite of the band's music videos or hear your favorite of their songs playing in your head.
(Lead Image Courtesy of Getty)