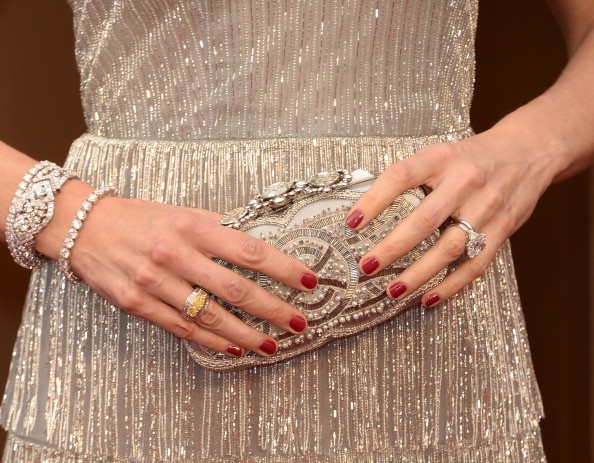 The promise ring is a controversial one. On one hand it sounds a lot like something a teenage boy gives to a girl he likes to show he likes her and wants to be in a relationship with her. Adults are likely going to laugh or mock this, saying it's very 'cutesy' and sweet. On the other hand, when an adult is given a promise ring, there are many who will mock that as well. Only this time they will mock the lack of commitment and the lack of intention. As an adult, a promise ring seems a bit juvenile and silly. Since the symbolism behind this ring is to show your love for another person, most people would assume that an adult would propose marriage with an engagement ring instead of a "pre" engagement ring. We're not knocking your feelings about promise rings; honestly. Everyone is entitled to their opinion, and our job is to teach you how to save money and still get what you want. So we will tell you where you can find cheap promise rings that certainly don't look cheap.
Overstock.com
This is a great site for inexpensive jewelry because you have hundreds of thousands (maybe even millions) of pieces of jewelry to look through until you find what it is you want. You can choose to shop based on your budget, your preferences and anything else that might seem important to you. Shipping is quick, the return policy is favorable and you will get what is described to you on the item's page.
Jewelry Stores in the Mall
These are your Kays Jewelers, your Helzberg Diamonds and your Zales locations. They might not be where you want to purchase a lovely engagement or wedding band, but they're certainly the kind of place you go for an inexpensive promise ring that will come with a few extras such as free cleaning and even a warranty. You can choose to buy a ring based on your price range and the sales associate will come help you purchase what it is you want to have.
Pawn Shops
If you're looking to really buy something cheap, try a pawn shop. It might sound tacky, but they often have jewelry that's been pawned for reasons unknown, and it's sometimes very good quality and even name-brand jewelry that you can count on.
Something to consider about a promise ring is the fact that it need not contain a diamond. While that's traditional as far as wedding rings go, it's not traditional as far as promise rings go.
Photo by Jason Merritt/Getty Images