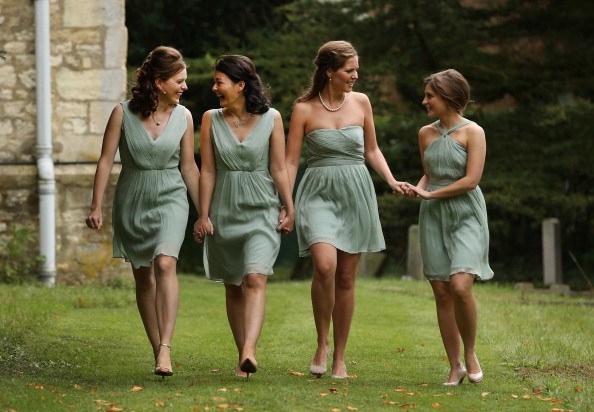 Calling all bridezillas and all brides determined not to become bridezillas; you do not have to make your bridesmaids hate you by forcing them to purchase expensive bridesmaids dresses. And you do not have to hate your wedding by letting them choose cheap bridesmaid dresses that lend and air of "80s prom" to your wedding photos. You can compromise, dress your favorite ladies in something gorgeous and not make them choose between sending their kids to college or being part of your wedding.
Cheap bridesmaid dresses are actually really in right now. They're perfectly easy to find, especially if you think outside the box a bit. We have three suggestions that are going to make you and your bridesmaids very, very happy when it's time to shop. They'll feel gorgeous, you'll love your photos, and provided you continue to treat them right, they'll still love you once your big day is over and done.
Don't Shop Bridal
Believe it or not, you do not have to go to a bridal store to choose bridesmaid dresses. Who says they have to be 'bridesmaid' dresses anyway? Aren't all formal or semi-formal dresses kind of the same? They're all made of material, you'd probably wear them to a wedding, so why not actually let them wear them to a wedding? Go to your favorite regular store and let them choose dresses they all like.
Pick a Color
Here's a concept; instead of making your bridesmaids choose the same dresses, just pick a color and let them choose their own style. If you let them buy it anywhere as long as it's a shade of blue or red or whatever, they can pick their own price point and you won't have to worry.
Rent Dresses
Here's a concept. Why not allow your bridesmaids to wear a designer dress for next to nothing the night of your wedding? Rent the Runway allows you to choose dresses (and a second one in a different size just in case – free) designed by some of the world's most high-end designers. They're affordable, and everyone can get the same dress. You can also have them shipped in time so that just in case someone's doesn't fit, they can get another one on the way asap.
Photo by Peter Macdiarmid/Getty Images