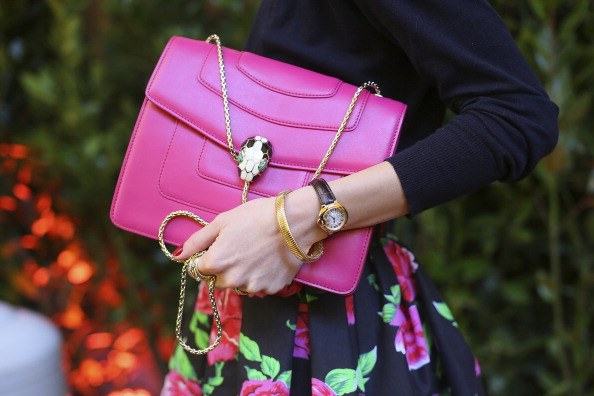 Style is something so beautiful because it's in the eye of the beholder. There are things that are always in fashion, things that are occasionally in fashion and things that are considered high-fashion that make style so much more fun. When it comes to fashion, it's not all black and white. There are areas so gray that it makes it possible for everyone, no matter their age, gender, race or preference to carry immense style. What we love is that style and fashion are perfectly suited to games of mixing and matching. There is no set rule that says you have to wear this with that and that with this.
Fashion is, essentially, a game. It's what women and men play every morning when they're getting dressed; the game of finding out what looks good, what works together and what twists can be made to create something unique and wonderful. We love games, and we love them even more when it comes to playing mix and match with fashion. However, not everyone is comfortable making up their own rules to these fashion games, so we're here to help you set some guidelines you're comfortable with when it comes to thinking outside the box. The fashion rules will help you play the game and become a true fashionista.
The High and Low Rule
This is the most appropriate rule in the world of fashion is the high-low rule. And no, we are not referring to the hi-low hemline so many people loved last season. We are talking about mixing and matching high-end pieces with low-end pieces. The general rule of this fashion game is to go low with your trendier pieces (think peplum tops and trendy shorts) and go high-end with your classic pieces (shoes, handbags and classics such as the LBD and suits). You can create a mix and match look that's completely appropriate when mixing and matching these pieces. It's so easy, and it's perfect.
For example, you can take a trendy top and pair it with classic dark wash jeans and high-end shoes or a high-end handbag to bring the look together in a way that marries each piece in the perfect complement. The rule here is that cheap on cheap looks cheap. Anything trendy and cheap can be made to look more elegant and chic with the right quality accessories. It's the best mix and match game there is in the fashion industry.
Neutrals and Bolds
Most people assume that when you wear something bold, you are making a statement. How true this is. However, you can wear bold with neutral pieces by mixing and matching appropriately to keep things in line and appropriate. For example, you can wear bold to the office so long as you keep your accessories in line and your bases very neutral. It's far easier for you to play into your own fashion sense in a professional environment when you use neutrals to tone down your bold choices. You can mix and match bolds and neutrals in a way that tones everything down and makes it far more appropriate.
This is especially appropriate in church, at school or in the office. You can also, however, make your bolds even bolder with other bold items. You can choose a gorgeous yellow tip and pair it with bright blue shoes, or you can choose the same yellow top to go with a basic black pantsuit and black heels to make it more elegant. It's your choice, and that's what makes the game so much fun.
Jewelry and Accessories
There are many people who feel that in the game of fashion, your jewelry and accessories must match at all times. This is simply not the case. Most people assume that this is the truth, but it's not. You can mix and match your prints and your colors to create an overall effect that's stunning. One of our favorite mix and match items is the classic handbag and luxe shoe with bold, beautiful jewels. Think about this; classic Chanel flats with a matching neutral structured bag might be something you pair with small diamonds, perhaps pearls or something else completely appropriate and demure. However, we think it's more fun to mix it up a bit and pair these classic items with big, bold, funky jewelry that screams, "I'm fun and I know what looks good on me." It also says that you have style and elegance.
Casual with Formal
It's another great way to mix and match and up your fashion game just a little; by mixing casual pieces with formal pieces. For example, a great casual pair of leggings with an oversized tee looks amazing when paired with a formal jacket such as a blazer and a pair of great quality boots or ballet flats. You are immediately given the look of casual elegance because that's what you just created.
Let's think about it for a second. When you put on leggings and an oversize tee, it's perfect for around the house when you're just relaxing, right? But you wouldn't go out like that and expect people to look at you in a way other than they would someone who is running errands in their workout clothes or their pajamas. However, throw on a gorgeous blazer that's high quality and some great high-quality shoes that are a bit more formal, such as heels, and your outfit suddenly takes on a whole new level of casual elegance.
Fashion games are fun to play. Does this go with this? How can I make this go with that? How can I turn my favorite lay-around-the-house outfit into something that doesn't look lazy and ridiculous so that I can wear it out in public? It's all games; you get to mix and match and play around with fashion and that's what's so enjoyable about it. That's why we love it, and that's why we want to help you understand that when it comes to fashion, anything goes. These rules will help you mix and match so that you can have more fun with your fashion anytime.