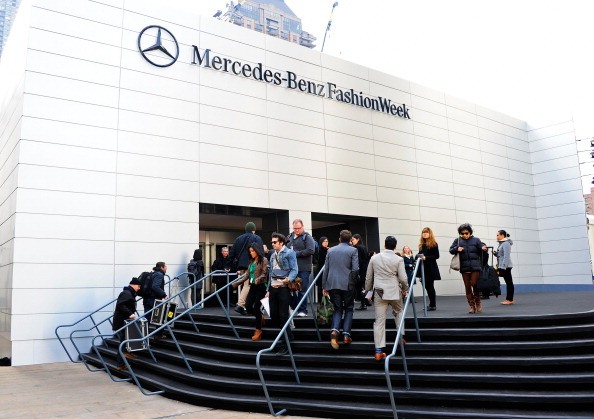 Lincoln Center won't be visited by as many major labels as it used to be during this year's New York Fashion Week, which kicks off September 4th. Despite Lincoln Center's best efforts for to revamp, it's not looking like a strong season for the celebrated music hall. For the second season in a row, LC's fashion week tents will be missing some of their most prominent designers. Vera Wang, Michael Kors, and Zac Posen are all showing their spring collections in other, off-site locations.
Even the CFDA's current President, legendary designer Diane von Furstenberg, will be showing (for the second season) at Spring Studios instead of at Lincoln Center. Last season, the designer said that she needed a special space to house her runway celebration in honor of the 40th anniversary of her wrap dress. But the smaller venue forced her to cut down her guest list drastically and reportedly showed no signs of meeting any special needs the designer may have had to justify leaving IMG Lincoln Center. She had said she needed a "special" place to celebrate the anniversary, indicating that she would return to the tents this September, but instead she will be showing again at Spring Studios in NYC's Tribeca neighborhood.
This is all unfortunate for IMG Fashion, which had a tumultuous winter with William Morris Endeavor and Silver Lake Partners acquiring its parent company, IMG Worldwide Holdings Inc., for more than $2.3 billion in late 2013. IMG has owned Mercedes-Benz Fashion Week since 2001 and there have been many complaints in recent seasons about the venue's atmosphere being increasingly circus-like and chaotic. IMG's contract ends with Lincoln Center at the end of the February 2015 season.
The CFDA has been working to have more control over Fashion Week, most recently with its acquisition of the Fashion Calendar. The Fashion Calendar is the official schedule of fashion events and shows in New York, including Fashion Week, and the CFDA is working to modernize the calendar and implement an official calendar for pre-collections. The CFDA has also developed its own website for Fashion Week. With these implementations, one can guess that the CFDA might be hoping to gain control of Mercedes-Benz Fashion Week entirely in the upcoming years.
(Photo by Andrew H. Walker/Getty Images for Mercedes-Benz Fashion Week)