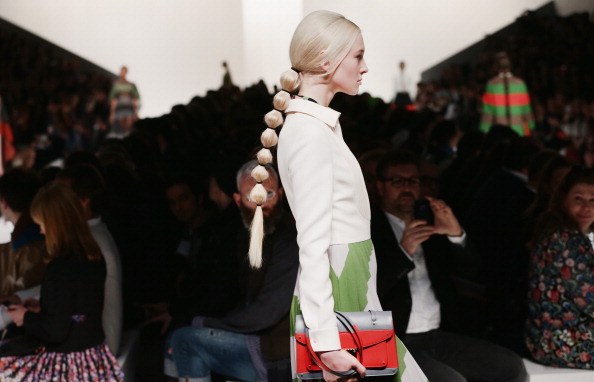 With 2015 just over a week away, many of us are already focused on what to wear in the New Year. Of course, we're just interested in what to wear when the clock strikes midnight in the New Year, but the rest of the year is just as important for those of us who love fashion. With a new year comes new style for many. There are resolutions to be considered. There are diets to be had, and new lifestyle changes to be made. This means many women will lose weight, get fit and make some major life changes. And when that happens, there is no better way to celebrate than with a new wardrobe that will show off that new and gorgeous figure. Even if you're happy with your current look, we still have some advice for you on what you'll be wearing next year based on the latest in runway show fashions from the designers that rule the fashion industry. The following year is going to be big when it comes to different looks, and we can give you a hint that the 80s fitness look, the 70s bold and bright patters and the 50s and 40s lovely feminine looks are all coming back into style. Take your pick and see which one you will rock for the New Year.
The Pencil Skirt
It's back, and it's better than ever. There are those of us who love a good pencil skirt, but the look is coming back in a way that's not just for the corporate CEO. Altuzarra's runway pre-fall runway show was filled with pencil skirts that are higher, tighter and more form-fitting than ever before. The colors are bolder than your basic black, the materials are far more exciting and the overall look is one that will make you feel really good about what you're doing in this skirt. It's the look that will rule the fashion world in 2015, and we are predicting everyone will have a pencil skirt or two in their closet before spring arrives.
The 1970s
Fashion shows this year were filled with retro styles that are bound to come back into style in 2015. Goodbye skinny jeans and hello wide legs. We're already seeing a number of high-waist shorts and pants that are making their rounds as far as trends go in 2014, and we spy the look making a huge comeback in other aspects of the industry. Some of the most prevalent looks for the year will include some bold patterns, some slightly off the wall color palettes and not quite so fitted forms. This is a look that's going to rule the New Year, as well as the one after since we know we can't get enough of our favorite trendy decades once they come back into style.
Classic Looks
Something we spy coming back into play for the New Year is the look of classic elegance. We are going to see a lot more feminine looks, a lot of pencil skirts (see above) and a lot of amazing new looks that will entail things such as fitted dresses, longer hemlines and higher necklines. This is what we are calling our Mad Men prediction. We believe more and more women are going to make an effort to look as though they are elegant women rather than modern women. This is going to include some more modest necklines and hemlines, and a much more professionally elegant look that we are used to at this point.
Circle Skirts
These are some of the most amazing new skirts to come into fashion in the coming year. Women are already wearing them left and right, enjoying them everywhere they go and loving the fact that they can get away with wearing something so feminine and lovely. The skirt is paired well with button down shirts. It works in the office, for parties and everywhere in between. The look can be dressed up or dressed down. It could be made to look feminine and flirty, sexy and demure. The look is one that is so versatile that it can even be made to look like something a bit less than feminine if paired with the right shirt and shoes. These skirts are in, and they will be all year. We recommend that you pick yours up now before the demand is so great the price increases dramatically.
Florals
If it has flowers and it's a pastel, it's going to be big in 2015. This is a look that is back and better than ever, and it's never going to look more appealing that it is now. The look is going to be very popular as far as A-line dresses go as well as shorts. Expect to see the very pretty J. Crew shorts women love take a backseat to the very lovely and very feminine floral shorts that are going to make a comeback this year. Another great concept for this look is going to be lingerie. One of the biggest trends on the runway this fall was floral lingerie, and we think it's going to take the fashion world by storm.
Resort Wear
This is going to be more popular than ever this coming year, and for good reason. The tones coral, citrus, navy and indigo, even, are going to show up in just about everything that you see in stores and on the runway throughout the next year. This is going to be a beautiful look that will encompass everything from shorts to tops to dresses to even work wear for the professional. This is also a look that's going to show up in the men's and children's departments, as well.  The one thing that will also be big in the bright and summery hues are the crop tops. They're huge right now, even if some of us don't love the look. Crop tops are in and they are big; and this coming year they are going to be even bigger in 2015. Get ready for a sea of cropped tops with beautiful hues and even newly updated Bermuda shorts.
Photo by Vittorio Zunino Celotto/Getty Images