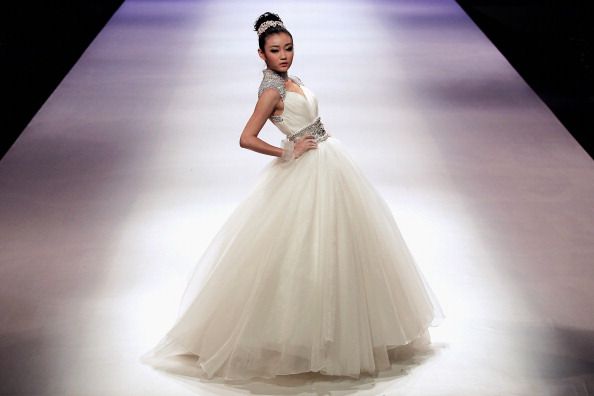 Vera Wang's designs grace the bodies of some of the wealthiest and most stylish women in the world, especially on their wedding days. Her gowns are made with exquisite quality, beautiful style and exceptional fashion, which is why they're so popular. Women will pay almost anything to wear a Vera Wang design as they walk down the aisle, including the price of her five most expensive wedding dresses.
The "Delilah" – $9,000
This pleated sheath is perfect for the versatile bride. It's not fitted, which is good for brides looking to hide their self-perceived flaws. With a strapless top and pleats from head to toe, its lovely shape is flattering on any frame. This A-line gown is made of organza that just falls right into place, and it's perfect with paired with a colored sash at the waist.
The "Audrey" – $10,500
From the Ivory Luxe Collection, this strapless gown features fitted bodice and a flared bottom that's almost trumpet style. It's very old Hollywood with a jeweled waistline and lace detail. It's just trendy and modern enough to fit in today and just classic enough to still be beautiful when you're looking at your wedding pictures in 50 years.
Strapless Ruched Tulle Mermaid Gown – $25,000
This gorgeous gown is simple and chic. The tulle bodice is fitted with a slight flare at the bottom to create the mermaid silhouette brides love. The detail in the tulle in the top makes the gown look even more oceanic and lovely, and it's the perfect gown for a woman with an hourglass figure.
Strapless Pleated Sheath – $35,000
This dress was shown on the runway in a gorgeous champagne, but it does come in a shade of white for the traditional bride. Pleating begins at the leg, which makes the dress move in a lovely fashion when dancing and walking. The strapless top is fitted without being skintight and the lovely design of the bodice creates an elegant look.
Peacock Feather Wedding Dress – $1.5 million
Vera Wang created this dress in 2009 for the bride who simply does not want to look like every other bride. This gorgeous dress is made completely of peacock feathers. However, it's not made of just any old peacock feathers. It's made of 2009 male peacock feathers in commemoration of the year in which she created the dress.
(Photo by Lintao Zhang/Getty Images)