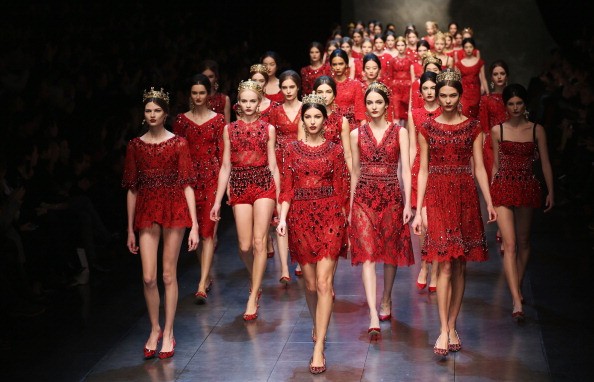 The Dolce and Gabbana show is the unofficial closing ceremony of Milan Fashion Week. Every year, it's a joyful celebration of fashion, and often a part of the cultural history of Italy in some way. Every year, the duo end Italy's weeklong ode to all things new in fashion with a fabulous runway show that brings down the house and ties up the week beautifully.
This past weekend, D&G previewed their Spring 2015 collection, which was inspired by Spain's infiltration of the island and how the Spanish have influenced Sicilian culture. It was as much a dedication to Spain as Sicily, with a soundtrack of flamenco music. It was perhaps maybe even more of a tribute to Spain, though there were certainly traces of both cultures. There were clear nods to matador outfits featuring cropped, embroidered jackets, high-waisted pants and super-short bloomers. The show's models even wore matching traditional bullfighting shirts for the show's signature triumphant finale, with model-of-the-moment Kendall Jenner positioned front and center amongst the more than sixty models.
In addition to the bullfighting looks, there were plenty of Dolce & Gabbana reliables, including intricately embroidered and bejeweled dresses, polka dots and stunning brocades (some on gorgeous two-piece suits), tiered high-waisted skirts, and fitted lace dresses. All were in the color palette of black, white and red.
In February 2013, the Italian designers (Italian designers Domenico Dolce, 56, and Stefano Gabbana, 53) ended the Fall/Winter Fashion Week with an outpouring of models wearing outrageously beautiful red embroidered lace dresses. That collection was inspired by the Byzantine era, hence the intricate crowns some of the models are wearing.
At the following Milan Fashion Week, honoring Spring 2014, the designers were inspired by ancient Sicilian temples, including the region's coins and decorations, which were featured into the collection, sometimes literally. Feminine dresses had lithographic prints of temple ruins and Sicilian ceramics, or were covered with three-dimensional almond tree flowers, inspired by the Sicilian scenery. Models also wore lovely, subtle flower wreaths in their hair. This collection was so beautiful. D&G have such vision!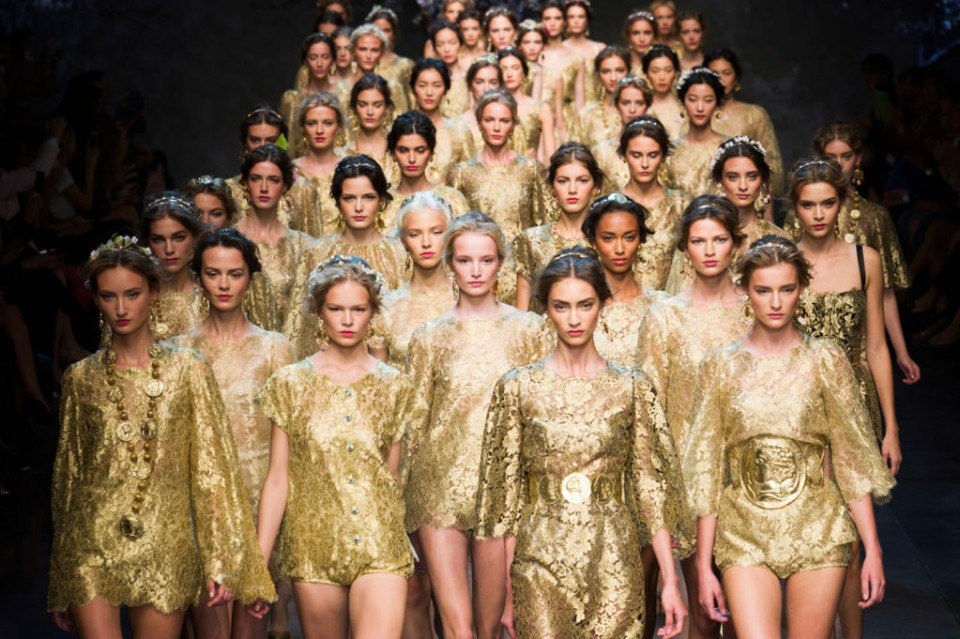 (Photo credit – Pinterest)
For Fall/Winter 2014 collection, the men used the inspiration of an Enchanted Forest or Wonderland. How fantastic! There were helmeted knights, medieval gowns, and hooded models wearing fox-fur mixed with lambskin, furry coats, metallic dresses and leopard-print skirt suits. The room was decorated with a frosty oak tree rose beneath the stage in a flurry of snow and the rest of the room displayed a winter landscape lit with violet. Models wore clothes stitched with squirrels, foxes and childlike flowers.
These are just a few examples of how Dolce & Gabbana have ended Milan Fashion Week in lavish "fashion" the last few years. It must be one of the hardest shows to get a seat in and everyone must be thrilled and eager to find out what each show's theme will be. Let's put our names on the waiting list right now!
(Lead image courtesy of Pinterest)