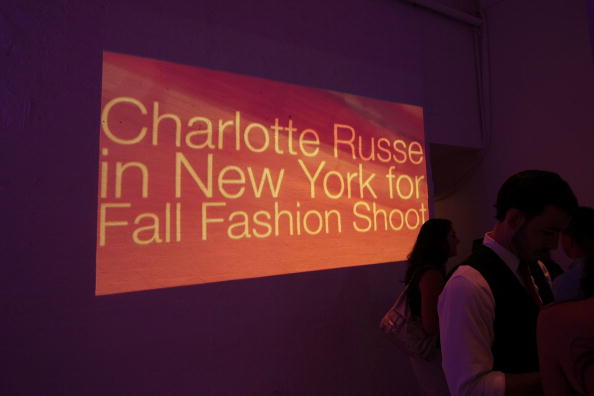 Charlotte Russe is a clothing retailer that is designed for the younger crowd. The typical Charlotte Russe shoppers are teenage girls and those in their young 20s on a budget looking for trendy clothes. The outfits you find here are not usually appropriate for younger teen girls, as they are usually very on-trend. Many of the clothing pieces here are a little bit more revealing that most people allow in schools or in their own homes, which means that this is primarily the place where girls come looking for clothes they can wear out at night.
The store is found in many locations in 45 states, and one of the things people love most about Charlotte Russe is the fact that the prices are very inexpensive. You can find trendy clothes for next to nothing here, and that also includes shoes and accessories. Most of the things you'll buy here will only last you a season or two, but that's all most of the Charlotte Russe shoppers are looking for. It's here you will find the biggest trends, highest heels and most inexpensive prices around. When it comes to shoes, you can find some of the trendiest shoes available for less than $20.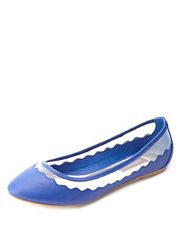 Dollhouse Mesh Scalloped Flats – $19.99
These cute shoes are perfect for fall. They'll pair nicely with a pair of skinny jeans and a blazer for a casual day, or with a dress and a jean jacket when the weather is cool but not cold. You will find that these are great shoes because of the gorgeous blue color and the sweet scalloped detail that set them apart from other ballet flats.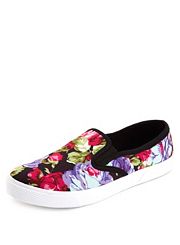 Floral Print Canvas Sneakers – $17.99
What's better than a pair of slip on shoes when you have to run errands? These shoes are cute enough to wear out for the day when you have a number of things to do. The floral print is on trend, the price is unbeatable, and the fact that these slip on make them even more desirable.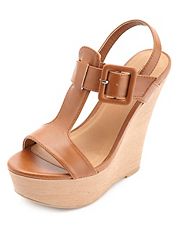 Buckled T-Strap Platform Wedges – $17.99
These are great for a casual but dressy daytime event or evening out when you just want some shoes with comfort. The high heel is a bit more dressed up than a flat, but the buckle and T-Strap make these shoes all the more fun. The cognac color is one that will go with everything, and you can't beat this sales price!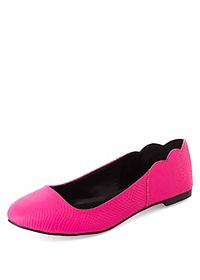 Scallop Python Texture Flats – $19.99
These sweet ballet flats can be dressed both up and down, which is the best part about them. They're great for casual day wear and more dressed up office-wear. The scalloped edge makes them just a bit more exciting than other flats, and the bright pink hue is fun. Of course, they do come in several other colors if bright pink is not your thing.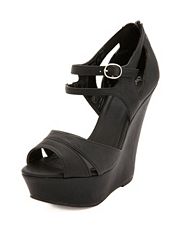 Peep Toe Platform Cut-Out Wedges – $17.99
These are great for a night out. The cut-outs are a huge style trend right now, and the high heel is perfect for dressing up a pair of skinny jeans and a tunic or a shorter dress. These black shoes are on point with just about anything you can wear in the evening, which is what makes them so versatile.
Photos by Charlotte Russe