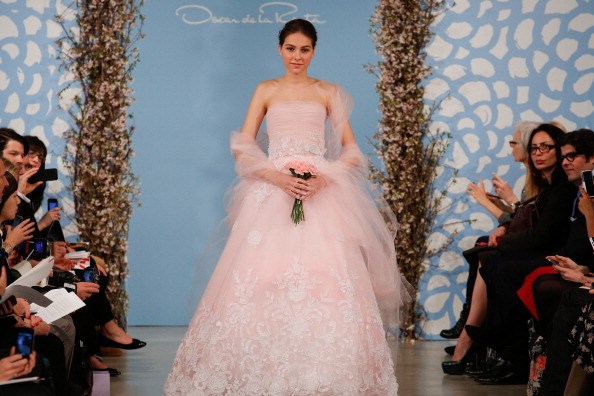 It's a new year and that means it's a new season for brides. Couples looking to get married this year – or buy their wedding gowns this year at least – are going to have a whole new level of style to look into. Bridal trends, just like every other trend in the world, change regularly. Spring fashion shows have already begun to show us what the newest and most popular styles of wedding gown will be this year, and we have to say that they're lovelier than ever. And since most brides find that their dress is one of the most important aspects of her wedding day, they're going to want to know what they can expect to see when dress shopping this year. There is one thing to remember, however, when it comes to dress shopping. And that's that not every single dress style, no matter how trendy or popular it is according to bridal designers, is for every brides. Sometimes trends aren't good on one bride and they're great on another. And just because someone tells you that a certain trend is going to make your life wonderful doesn't mean that you have to buy it; you should find what makes you look beautiful and what makes you feel good  no matter how classic or trendy it might be. With that said, however, here are some of the biggest wedding gown trends for 2015.
Dramatic Necklines
The biggest trend of the year in the bridal gown industry is all about the neckline (forget that bass). The neckline is all the rage because designers have realized that just about everyone loves their neckline. It's the one body part that doesn't really change no matter how else your body changes. This year you can expect to see a myriad of necklines that feature plunging tops, beautiful lace and dramatic features. Gone are the simplistic necklines of seasons past. Instead of bold and beautiful skirts, it's all about what's up top.
Minimalistic
Gowns are becoming simpler than ever. With the classic looks of the past coming back into style in a major way, many brides have decided that they'd rather be simple chic than over-the-top dramatic. Designers have taken note of the fact that soft fabrics, minimal detail and beautiful fits are more important to many brides than anything else. Call it the Audrey Hepburn/Jackie O. influence on the bridal industry. Simple and classic are far better than trendy.
Sheer Material
You're seeing it everywhere in lace dresses for every occasion. Instead of having lace with the same color underlay, designers have chosen a new way of looking at trends and styles. This includes lace wedding gowns with nude underlay that cause you to look twice at a bride. Before you start thinking that this might be trashy, know that it can be quite lovely when it's done the right way. For example, a modest gown with sheer material is far more modest and beautiful than one with a plunging neckline, a slit up to there and too tight a bodice.
Softer Ball Gowns
Ball gowns are notorious for being very Cinderella-like and poufy; and designers have decided they want to go a different route. Instead, ball gowns retain their same shape but they are using something a bit different to create a softer look. Instead of making skirts pop out, they're letting them flow naturally. They still look like a ball gown; they just look like a must softer version. This is a wonderful look for a bride that might want to wear the style but fear the big skirt is not going to flatter her curvier body; it's softer and more feminine, and it gives off a completely different vibe while still looking so much like exactly what it is.
Colored Gowns
Color, color, color; it's everywhere. The problem with bridal gowns is that they're always so white. And with so many brides looking for a bit of color on their big day, designers are changing things up a big. Sure, you might find a bold red, black or even pink to wear in a bridal department, but that's not the color that designers are leaning toward. They're going soft, but colorful. Pastels and very light shades of blue, blue and even lilac. Sometimes the color is so subtle that you almost can't tell that a dress isn't white; you might simply wonder if it's the light catching the dress, the shadow of the flowers making it look a little bit colorful or just a trick of the eye. The key to fitting in with this trend is to find a dress that's a color so light and so barely there you almost can't tell.
Crop Tops and Two Pieces
It's everywhere; we cannot get away from the crop tops and two pieces. And while it's fine for those who like it, we can't say it's our favorite bridal fashion (or any fashion for that matter). The look of a crop tops is very 1980s, and it's back. Bridal gown designers are offering women their choice of high-waisted skirts and cropped tops in which to walk down the aisle, and we know a lot of brides are going to fall for this big trend. Just remember that this is VERY trendy. What this means is that in a year or two, no one will wear this look anymore and you will look back on your bridal portraits much sooner with the whole, "Oh my goodness, that's very dated," thought. Additionally, if you haven't the confidence to rock this look, don't try it on your wedding day. Now is not the time to try for something super trendy you're not entirely comfortable with. If you are going to wear a crop top wedding dress, maybe consider this look for a casual ceremony on the beach, an elopement or even a Vegas-style destination wedding. A formal affair is not the time or place for a gown with this shape; and you will thank us for that piece of advice later.
Photo by JP Yim/Getty Images