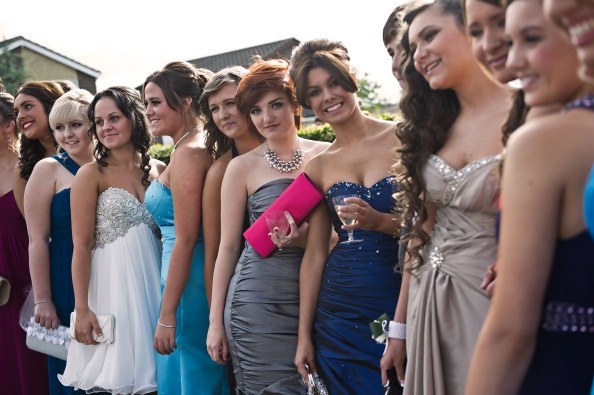 Prom season is going to be here before you know it, which means your daughters are already planning their big night out for the year. It is such a bittersweet night for a parent; it signifies the end of an era. It signifies the end of a time when your little girl is just a little girl. She's quickly becoming a woman. Before you know it, it will be her wedding dress you're shopping for, and not her prom dress. Now that it's time to start the planning for the big night later this spring, you're going to want to know just what to expect. If your daughter has never attended prom before, you might want to sit down. Prom, my friends, is not cheap. It is a night that could potentially cost you as much as $1000, and maybe even more. Potential fees include dresses, shoes, hair, makeup, nails, spray tans, corsages, dinner, limos and tickets. Her date may pay for some, or he may not. What we do know is that the dress is going to be one of the most expensive things you'll pay for, and we'd like to help you save just a little bit of money on that. In fact, our goal is to help you find as many places as possible that sell cheap prom dresses for under $100.
Forever 21
It should come as no surprise that dresses here are cheap. Everything here is cheap. And while you might not find floor-length princess ball gowns at Forever 21, you will find trendier gowns here that your teens are likely to fall madly in love with.
H&M
Known for trendy clothes that last all of one season, you're going to find dresses here your teens will adore on prom night. These dresses are not going to be over-the-top fancy because that's just not what this store does. However, they are going to be a hit with teenage girls who love this store.
Amazon
If you're comfortable buying a prom dress online without every trying it on, Amazon might be the perfect place for you to look for your dress. This provides you with an opportunity to shop a number of dresses that are all within your price range by narrowing them down by color and style so that you get to look at exactly what you want to look at.
Go Jane
This is a site that sells a ton of dresses designed specifically for the teenage girl. Trendy and fashionable, but still amazing enough to work for prom, your daughter is bound to find what it is she is looking for on this site. She won't be able to try it on right away, but that's a chance you have to take.
JC Penney
Good old-fashioned JC Penney has a selection of prom dresses from short and trendy to long and traditional. While my days at prom were all about the gown and the elegance of this one night, it seems things have changed, and your daughter will certainly find whatever it is she's looking for right here.
Photo by Bethany Clarke/Getty Images