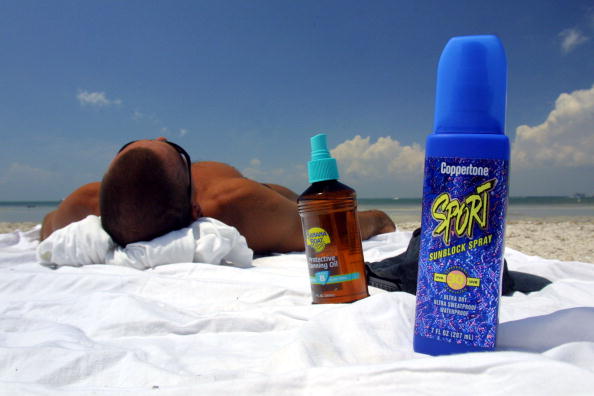 That moment when you have to climb into the third row of your entirely too large SUV to unbuckle your 4-year-old from her car seat because she has mysteriously lost the ability to do it herself: No big deal until you realize that you decided you just had to wear that adorable new sundress to the store this morning and now everyone and their mother is about to see your adorable VS under garments. What began as a truly fashionable moment has turned into nothing short of a wardrobe disaster a la Britney Spears circa 2007. Don't worry, moms; it happens. No matter how fashionable we are, we cannot help but make the occasional fashion mistake here or there, especially in the midst of the hot, hot summer months. Take it from me as someone who gets up at 5 am every morning so that I can shower, work for an hour, and still have time to do my hair and makeup before my kids wake up; fashion mistakes happen. But we can avoid some of them if we just think ahead and do a little planning. By sharing some of the most common fashion mistakes moms make all summer, we can help you avoid them and make the world a more fashionable place.
The Hemline Conundrum
It happens (as mentioned above). To avoid this catastrophe, I like to divide my wardrobe into things I can wear with the kids in tow and things I cannot. And before anyone gets on the "you shouldn't have things you cannot wear with your kids around" high horse, I don't mean it in the "I'd wear this to a job at a strip club" manner. What I mean is this; I have long legs for a short girl and I like to show them off. But I also like to look appropriate, and that means not wearing certain dresses when the kids are with me because it limits my range of motion (getting the double stroller out of the back of my SUV, buckling kids up, bending over, etc.). I save those still modest, but difficult to maneuver appropriately with kids around, dresses and hemlines for date days or errand running.
Short Shorts
Short shorts are just not that attractive, and that's why we all love a longer hemline. They're appropriate and no one has to see your pockets or cheeks. Think J.Crew and think anything with 4 or more inches in the inseam. It's going to save some serious embarrassment.
Shorts over Swimsuits
Moms and ladies in general; wearing shorts over a swimsuit is just not that attractive. It causes weird lines and weird things to happen to the body. Go with a simple cover-up, a cotton dress even. It's far more stylish and it makes you look a lot more elegant and a lot less like a mess.
Spaghetti Straps and Tight Shorts
Yes, it's hot, but that does not mean that you have to wear these things together. Spaghetti straps seem very childish and very unflattering. How about a gorgeous tunic or something with straps that come at least to the edge of your shoulder?
Gym Clothes
Unless you are headed to or from the gym, forget it. This is not a good look for anyone, and we cannot say that we love this look in public. Get dressed and put some effort into what you wear.
Socks with Sandals
I hate that I even have to go here, but sadly; I have to go here. The socks and sandals issue is really an issue, and it really shouldn't be an issue. Socks with sandals – why? I have lived in Florida my entire life, and you would not believe just how many people I see on a regular basis with adorable sandals ruined by socks. SOCKS. I don't even own socks. Well, I do, but they're for 5k runs and working out. And I rarely do either, so socks are not a part of life around here. Make that your own motto, too.
Tennis Shoes with Shorts
Sure, being a mom means taking a little more time to care about how you look and feel at the same time. Most of us believe that fashion and beauty require a little pain, but even I have to concede and admit that my favorite 5-inch Louboutin wedges do not mix with herding four kids around; but I'd never pair tennis shoes with anything but work out gear. Get some cute sandals (flat sandals) and rock that look, ladies.
The Incorrectly Fitted Swimsuit
Again, a problem that is bigger than global warming in Florida. You know how you're supposed to get fitted for a bra so that it fits correctly and does the job that it's meant to do? You know how things that cover your girls are meant to do more than just cover them, like support them and keep them in place? Right; well that's what your swimsuit top should also do. Get that thing fitted and keep those things covered, ladies. You have kids, and they're going to pull and poke and make things adjust when you're least expecting it, so go ahead and make sure you do what you have to do to keep things in place.
Too much Makeup
Ladies, nothing is less attractive than your makeup sweating off your face in the heat of summer. We are all about looking good and feeling good, but we like it when you look and feel good in a more natural manner. You don't want to ruin your skin with all that makeup sweating off and clogging your pores, so let's go ahead and make sure it doesn't happen.
Not Wearing Sunscreen
Perhaps the single biggest fashion mistake one can make all summer long as a mother is not protecting your skin. At the end of the day, it doesn't actually matter how often you walk out of the house in socks and sandals (please don't, though). What matters is that you're around for the next 50 or 60 or 90 years to hang out with your kids, teach them to ride their bikes, help them through their first heartache, introduce them to their college roommate and place your daughter's veil in her hair on her wedding day, hold her hand when she gives birth the first time and be there for her when she needs you. And you cannot do that if you do not protect your skin and do all that you can to prevent skin cancer. If you choose to ignore all the fashion mistakes on this list and continue making them (much to the horror of the summer fashion police), please do not ignore this mistake.
Photo by Joe Raedle/Getty Images