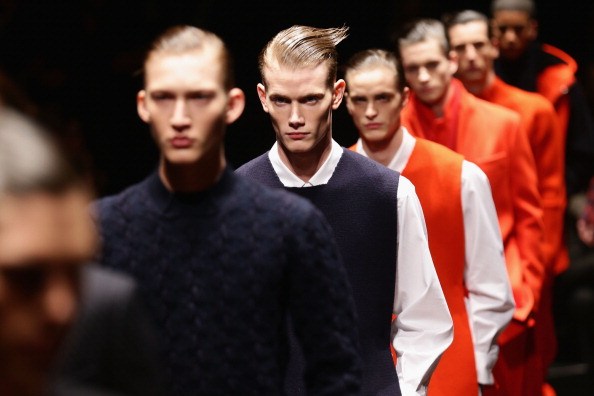 Many people associate fashion with women, but fashion is just as much for men. It might not be anywhere near as prevalent in the lives of some men, but for others fashion is a major part of their lives. I'm not saying fashion is the most important part of my husband's life, for example, but I'd say it's probably more important to him than many of the other men we know. He dresses up for his career, and he likes to look nice at home and when we are out as well. So in his mind, clothes and accessories are important. Does he spend as much time in front of the mirror as I? Probably not. And he certainly does not spend as much time in front of the mirror as our 3-year-old daughter now that she has a sweet new hair cut she just can't stop staring at. However, fashion is important for men. Men's fashion is important for the successful, stylish man. If you're into looking a bit more put-together and sophisticated but don't know how, we have some of the most influential and amazing men's fashion advice you're ever going to get.
Get It Tailored
We'll start with the single most important rule of fashion for all men and women, as well; get everything you own tailored. I cannot stress to you enough the importance of a good fit. I don't care if you're wearing Armani or Gap. If it does not fit properly, it is not worth the time and effort you put into it. You will not look good in it.
Own a Blazer
Every man needs at least once blazer in his collection, but usually more. We love a navy blazer and a beautiful tan blazer. Get it tailored, and don't be afraid to pair it with anything from casual slacks to jeans to a tee shirt, a polo or a button down. You can make it as dressy or casual as you see fit, just make sure it actually fits and you actually own a nice, quality one.
Fall In Love with Casual Sophisticates
Casual clothing is going to take you from day to night, from night to day and everywhere you go. From brunch to a casual meeting at the club to an informal vacation, we need you to understand you need khakis. You need polo shirts and you need a good pair of sunglasses or you're going to look a little bit silly. Oh, and ditch the baseball cap.
Buy Expensive Shoes
If you're a man who wears a suit to work, don't ruin it by wearing cheap shoes. You don't have to spend thousands on shoes, but a nice pair that will last a long time and is made with good quality materials will do wonders for your overall look. Do yourself a favor and invest in something comfortable and classic, and wear them around. You'll understand, very quickly I might add, the importance of a nice pair of shoes that will take you from the office to dinner.
Own a Suit
Every man needs at least one suit in his collection, and it should be neutral and classic. It should have no overly discerning markings if it's the only one you own or it will look like a repeat each and every time you wear it. It should be well cut, well made and well tailored, and it should be classic. Don't go too modern on this one.
Take Care of Your Shoes
Shined shoes are noticeable. Scuffed, dirty shoes are also noticeable. Don't be that guy. You can't be a men's fashion expert or even a stylish guy who people take seriously if your shoes look like they've been in a war zone. It takes very little time to buff them and clean them and make them look good, so do yourself a favor and make them look good.
Care for Your Hair
Your hair has every bit as much to do with your appearance as your clothes. And believe it or not, your hair can ruin a great ensemble. No one wants to see a head full of greasy product. No one wants to see an overgrown mess, either. Do yourself a favor and skip the bad hair and go for something short, groomed and easy to care for.
Contrast Colors
Many men assume they have to match 100% to look good when dressed up, and this could not be further from the truth. Matchy-matchy is so out. You want to be matching, but coordinating is better. This doesn't mean you have to wear a blue tie with a blue shirt and a navy suit. You can go for a bold red tie or a pattern or even a shirt in a completely different color – such as green. You should go together, but not be completely matchy-matchy.
Don't be Afraid of Certain Colors
So many men are afraid of certain colors, and they shouldn't be. Pinks, salmons, purples, lavenders and other soft colors are just as bold and beautiful as any blue or green or yellow. These are not 'girly' colors. In fact, only real men can get away with wearing colors that are often designated as feminine, and we love a man in these colors. Why? Because it's a surefire sign that this man is confident and secure in his body and in his role in life, and that's a major plus for him.
Tennis Shoes are for Working Out and Playing Sports
Let's get this straight; you should not wear tennis shoes for anything but working out and sports. It's a bit sloppy. If you're looking for casual shoes, allow us to recommend a nice pair of deck shoes or loafers you can slip on and enjoy when you're in a casual environment. And for the love of all things fashionable, please do not go out to dinner or to any restaurant in tennis shoes with shorts or jeans or other pants; it's just bad.
Photo by Vittorio Zunino Celotto/Getty Images