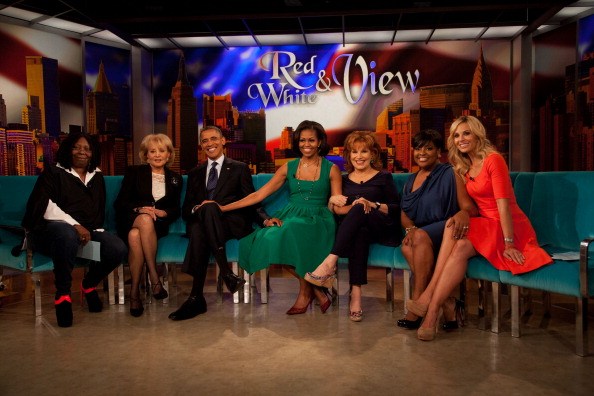 The View is one of the hottest daytime talk shows on the air. ABC has seen a big shakeup in the cast in the course of the show's history, but none more so than in the past year. The only co-host left from the table last year is Whoopi Goldberg, who is joined by three new women this year. While the hosts have changed, the crew has changed and even the set has changed, one thing has not changed; the popularity of the show and the length of time it takes to get into a live taping of The View. If you're a fan and you want to see The View, here is everything you need to know about getting a ticket.
How to Request Tickets
The way to request tickets is online and you must do it well in advance. While there are often tickets available stand-by, the show recommends that anyone looking for tickets to The View request their tickets 24 to 30 months in advance. That's right; if you want to see a live taping of The View, you'll need to choose a date two to two-and-a-half years in advance. Those who do not live in New York or states surrounding New York (New Jersey, Pennsylvania and Connecticut) can request a specific date to accommodate their travel needs, though there is no guarantee for availability. All tickets are free.
The Day of Taping
You'll need to arrive at the studio entrance no later than 9:30 am (8 am if you would like stand-by tickets from no-shows) dressed in bright colors. The show does not allow anyone wearing solid black or solid white, large logos, hats, sleeveless shirts or tee shirts to attend a taping. You'll need to look upscale chic as if you're dressing for dinner. You will need to carry a small jacket or sweater because the air in the building is very cold. You may take photos, but you may not use a cell phone or other wireless device to do so. You'll need photo identification and you'll be screened prior to entry.
Gifts
Sometimes The View audience members are given gifts from the hosts or from guests. It's imperative to understand that anyone who is not a resident of the United States may not be eligible to receive anything that is valued at more than $600 given complicated tax laws that are in place in the US and other countries.  Furthermore, anyone who has been an audience member at the show in the past 6 months will be turned away.
Photo by Allan Tannenbaum-Pool/Getty Images