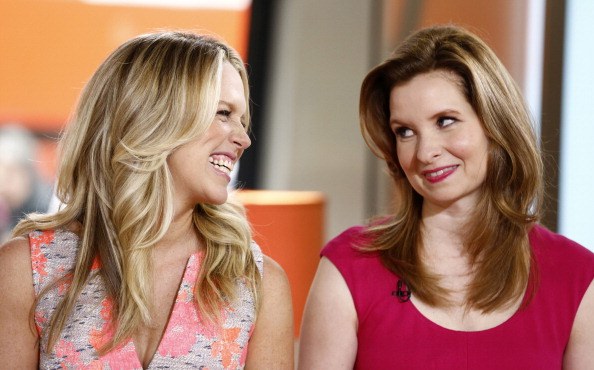 Back in 2013, I discovered Best Friends Forever, a comedy series about two best friends, played by Lennon Parham and Jessica St. Clair. The real-life friends who met at the Upright Citizens Brigade Theatre also wrote and developed the show. Parham and St. Clair's witty writing, easy rapport, and close-friend chemistry made me a quick fan. I had recognized St. Clair from bit parts on shows and from her Marshall's commercials. But Parham was a fresh face to me, and I was excited about having this new television "playmate" in my life. She is sarcastic, bright, and likeable, with a unique face and freshness that I was instantly drawn to. Best Friends Forever was about woman (St. Clair) who moved into the Brooklyn apartment of her best friend (Parham) and her best friend's husband.
For whatever reasons, the show didn't last, ending quickly after only six episodes. I was sorry to hear the news. The lead male actor, Luka Jones, quickly popped up elsewhere, including in the Will Arnett/Christina Applegate comedy Up All Night and Spike Jonze's Her. But it was my two new gal pals that went missing from my TV sitcom life, other than for those dang commercials.
So imagine my enthusiasm when, during a late-night channel flipping, I discovered these two pretty and familiar faces on my hotel television screen. This time, the duo had landed on USA. This reminds me of how Courtney Cox found a new home for Cougar Town on TBS – clearly these channels are more nurturing to middle-aged actresses who might have been booted from bigger networks. To my delight, I stumbled upon USA right as the pilot and second episode of the duo's new show, Playing House, played back-to-back.
St. Clair and Parham are again playing best friends (so cute for real-life besties!), just in another setting. Emma (St. Clair) is that girl who does her best to flee her small suburban hometown and keep her past in the past. In this case, Emma moved away to Shanghai after growing up in Connecticut and is a workaholic who has barely been back since. She travels back to CT for her best friend Maggie's (Parham) baby shower. The pilot episode sets up the series, and without giving much away, a huge revelation is made at the shower that is bad enough that it causes Maggie to finally break up with her husband. Emma is told by her boss she needs to return to China immediately, and therefore abandon her best friend during a crisis. Instead, she tells her boss to shove it, quits her job, and decides to live with Emma in Connecticut and help raise the baby. The pilot is a typical pilot episode, in that it sets up the series, but is done well. It's humorous, smart, and sweet, and it had me instantly connecting with the characters. In addition to the lead stars, the show also features Key and Peele's Keegan-Michael Key as a local cop and Emma's first boyfriend and The Office's Zach Woods as Mark, Maggie's younger brother.
Playing House's second episode is the first one that shows Emma and Maggie getting into silly suburban shenanigans. In "Bird Bones," they spend time with a old classmate who they made fun of in high school. Whatever the two may be up to, when side-by-side, they are a hilarious, quirky duo. The characters are very real, as they look and act relatably, resulting in Parham and St. Clair looking and seeming like they would be your real-life buddies. They're not your typical perfectly-featured-and-figured Hollywood stars, even though both Parham and St. Clair are beautiful! But their down-to-earth-ness and real friendship chemistry perfectly translate onto the small screen, so much so that watching the show feels like hanging out with two old friends.
I showed my boyfriend Playing House both as an experiment about whether a man could appreciate this female-buddy comedy and to find out if this would be one of my solo-watching shows. Turns out, he liked it! St. Clair and Parham's likeability crossed genders, like I suspected, because wit, sarcasm, good jokes, funny scenarios, and all-around good writing do indeed break through prejudices and cross borders. As it should.
Playing House airs Tuesdays nights at 10 pm, on USA.
(Photo by: Peter Kramer/NBC/NBC NewsWire via Getty Images)