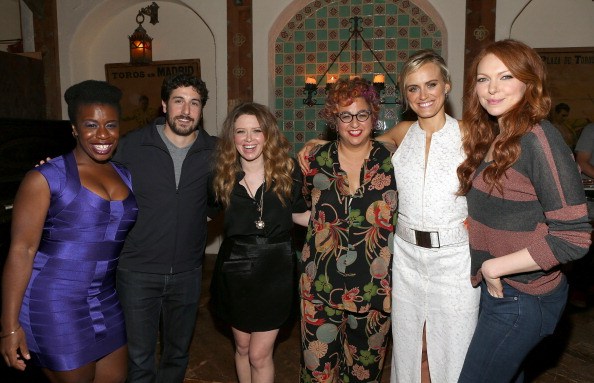 If you haven't binge-watched the first season of Netflix's incredible original series, Orange is the New Black, then stop what you're doing, buy Netflix (because you must not have it) and watch every episode right now. It's phenomenal. Funny, touching, fascinating – this comedy/drama series is out of this world. Fans of the show have been anxiously awaiting not only the arrival of the show's second season, but a glimpse at what it will hold in the form of a trailer.
The wait is over. Netflix finally released a two-minute trailer, which gives a look into some upcoming plot points, or at least vague ideas. You can watch it here.
Here's what I could decode from watching the trailer.
Piper (Taylor Schilling) finally gets out of  solitary confinement after being placed there due to her outrage-fueled attack in Season One's finale (no spoilers here!).
She's no longer the newbie – there's at least one new character that plays a prison rookie.
Big Woman on Campus, Red (Kate Mulgrew), may have to finally watch her back. It appears an old enemy or someone she has a volatile past with has landed in SHU. Her name is V (Lorraine Toussaint), and she looks pretty badass too.
V takes a liking to Crazy Eyes (Uzo Aduba). Maybe Suzanne will finally find a good buddy in prison?
Prison guard Bennett (Matt McGorry) and inmate Diaz's (Dascha Polanco) relationship continues, and he has developed a bit of a temper. Bennett was a sweetie in the first season, it will be fascinating to see his character develop in this way.
Fan favorite Tiffany (the fantastic Danielle Brooks) is back in jail. Hooray! I know I wouldn't want the show without her.
Orange is the New Black returns in full June 6 on Netflix.
(Photo by Jesse Grant/Getty Images for Netflix)