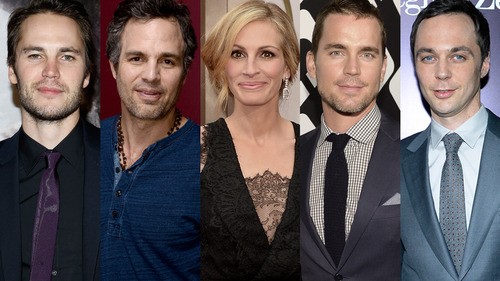 Thirty years ago, a man named Larry Kramer wrote "The Normal Heart," a semi-autobiographical play about the rise of AIDS in New York City during the 1980s. The play first premiered in 1985 and was revived on Broadway in 2011, winning the Tony for Best Revival of a Play. The play was renowned for putting the AIDS crisis front and center and for its unafraid, fierce, and passionate take on the subject.
The Normal Heart has finally made its way to the screen. This Sunday, HBO will air the feature film version of Kramer's heartfelt story. Despite involvement from names as big as Barbara Streishand, who owned the rights for ten years, it took until Ryan Murphy acquired the rights in 2009 for a movie version to be made. Murphy, the famous writer, director and producer of shows such as Glee and American Horror Story, bought the rights to Heart with his own money.
"Larry set a very high price. I gulped and said, 'Okay,' and bought it. I think he wanted to see, 'Is this kid serious?' And I was," Murphy told Entertainment Weekly in last week's cover story.
The Normal Heart tells the heartbreaking story of partners Ned and Felix, played by the handsome and talented Mark Ruffalo and Matt Bomer, respectively.  Ned, a writer, is is the onscreen version of Kramer, who is HIV-positive. Ned finds his boyfriend, Felix, and his beloved gay community hit by a then-unknown disease that later becomes known as AIDS. The duo are assisted by a doctor, Emma, played by none other than superstar actress Julia Roberts. Emma is coping with her own medical problems, as she is disabled due to polio.  Ned and Felix are further assisted by a group of activists, two of which are played by Jim Parsons and Taylor Kitsch. With the help of the group, Ned launches an anger-fueled movement to alert the world to the ever-growing epidemic.
The movie chronicles the devastating toll that AIDS take on Felix, and therefore, Ned. The movie reportedly shows the last few minutes of Felix's life, so WARNING – have tissues nearby while viewing. "This is heartbreaking, challenging material, and I don't know if I would want to go out and pay $20 and sit in a theater with a bunch of strangers and start opening that time box," Roberts told EW.
Bomer lost 40 pounds to portray the AIDS-stricken Felix. "Basically I did a fast, and then I had spoken with Matthew McConaughey [who costarred with Bomer in Magic Mike], " Bomer recalls. "He had just finished Dallas Buyers Club and I called him. It was so worth it because of the physical reality it created for me."
"It was like the smaller he got, the quieter all his energy became," Roberts elaborated. "That was heartbreaking, to see someone allowing this dimness to take over. I hideously ate full lunches right in front of him, and I would say, 'Does this bother you?' 'No.' And he'd pull out his little lunch of a lettuce leaf and four almonds and be sweet as can be while I was having my BLT with a side of BLT."
HBO is the perfect home for the film, which has a history of creating thought-provoking, boundary-pushing programming. "I spoke to some [movie] studios about it. But it was that thing where the $10-20 million movie that was a staple of the movie business 10 years ago is gone," Murphy stated. "So if you were gonna do The Normal Heart at a studio, it was sort of like, 'Here's $5 million,' and I couldn't do it with that." Heart reportedly cost between $15 and $18 million to make.
HBO programming president Michael Lombardo said, "We have tried to tell the stories that aren't being told, whether the networks or movie studios can't or won't tell them, and I think many of those have been in the area of the LGBT, of the disenfranchised.
Come this July, cast members may very likely hear their names announced when the Emmy nominations are announced. But all members involved report that they agreed to the project not for recognition, but to keep the conversation and activism around AIDS and equality issues moving forward. Parsons, who played the same role in the Broadway revival, told EW that the story is "about gay life, but in its own way it's overtaken as a tale of humanity. It transcends being about one group of people, and I think that's the whole point."
The Normal Heart premieres Sunday, May 25 on HBO at 9 pm.
(Lead Image from thenormalheart-movie.tumblr.com)