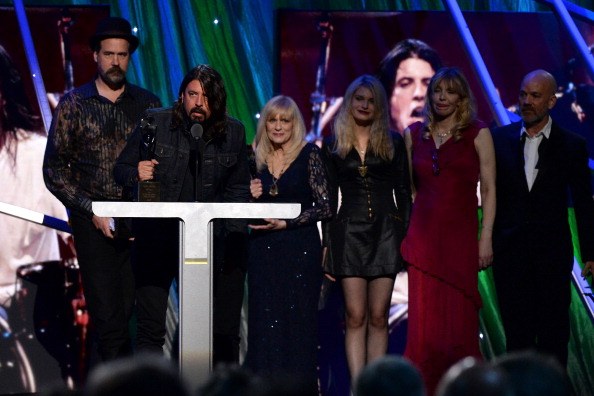 Like many of you, I'm a planner. I enjoy knowing what things I have to look forward to and some of the fun is the planning itself. Part of the reward of the whole experience is knowing all week that I'm going to one of my favorite restaurant's Friday or spending time with an old buddy Saturday. But this past Thursday, I lived on the other end of the spectrum.
I typically avoid those people that stand at the top of the subway station stairs and try handing out the daily free newspapers. But for some reason (fate, or at least the kind way the man greeted me), I took that paper from him and started reading. When I spotted the "Hit List" column featuring that day's exciting goings-on in the city, the top one read "Rock and Roll Hall of Fame Induction Ceremony at Brooklyn's Barclay's Center," and discussed how tickets were still available and being offered at reasonable prices. The line-up for musicians being honored and inducted was downright phenomenal – KISS, Cat Stevens, Linda Ronstadt, Peter Gabriel, and the biggies for me: Hall & Oates, E Street Band, and Nirvana.
It was impossible to resist. Also, the following day was my long-time boyfriend's birthday and I had no present planned. You can't blame me, he works at Gilt.com and receives quarterly stipends, and also he didn't want anything. But those tickets were mine as soon as I went on my mid-morning break. Cheaper (but not the cheapest, which is key) seats in the back section but in the front row, which is awesome! Rock and Roll Hall of Fame Induction Ceremony here we come.
We were both thrilled and even more so once we arrived at our seats – first row comes with a clear-cut view of the entire arena, plus a shelf for beer and/or your feet. Sweet! I knew the show was going to be Long with a capital L (I promised myself not to stress about having to be at work at 7 am the next morning), so being comfortable and having seats you like is an amazing plus. Now, let the show begin….
It really was phenomenal. Half concert, half music appreciation and speeches, this show was beyond star-studded. For a celebrity and entertainment total geek like myself, I got my fill with the rapid fire introductions of musician legends and A-listers. There were also impressive introduction videos leading up to each artist, filled with people praising them and telling stories and with old photos. Each video was like a five minute Behind the Music, and who didn't love those? There were also huge screens all over the stage that showed great photo collages throughout the entire show, allowing us to see the performers through the decades.  This show was part live concert, part music documentary, and (almost) all-around fantastic.
Peter Gabriel opened the show, performing a cool song I didn't know (Digging in the Dirt), and was then introduced with a speech by the clearly tanned Chris Martin. This was Martin's first public appearance since "consciously uncoupling" from ex-wife Gwyneth Paltrow. The Coldplay frontman, fresh off his family "break-up-moon" in the Bahamas, introduced Gabriel comically. He pretending to read from the "Book of Gabriel," while speaking in Bible-like verse discussing Gabriel's career.  "An angel of the Lord descended and appeared to the Phil called Collins," he began, saying the angel was called Gabriel and told Phil Collins he was breaking away from the band Genesis to go solo (just as Gabriel did).
"[Phil] replied, 'Oh, how can this be an angel? I am but a humble drummer. I can't dance, I can't talk, the only thing about me is the way I walk.' " So funny! It was also funny seeing the old photos of a young, skinny Gabriel on stage the whole time and then seeing him in person,  looking a lot like Uncle Fester. After accepting, he performed Washing of the Water with Martin, another song I didn't know, but it was a very nice performance. Gabriel finished the set with an amazing rendition of In Your Eyes. The classic tune featured the Senegalese singer Youssou n'Dour, who does the excellent background vocals. The audience also got the first glimpse of the cool lighting surrounding the stage, which flashed the colors of the rainbow during the tune, fitting the song and it's mood perfectly.
KISS was introduced next by Rage Against the Machine guitarist Tom Morello, who got the crowd revved up with his impassioned speech. "Tonight, we honor the fifth memeber of the band: the Kiss Army," he said of the band's loyal fanbase. "This night proves beyond a shadow of a doubt that the bullies and critics were mistaken. Tonight this is the 'Rock and Roll all night, and Party Every Day' Hall of Fame."
I could not have been more excited to see them play, hoping they'd play one of the handful of KISS tunes I know. But it didn't matter if I had known all the songs or none, because they didn't perform. They took the stage, "humbly" accepting (as Gene Simmons stated), gave speeches, and then didn't play. It was because the original members still active, Simmons and Paul Stanley, thought the replacements for ex-bandmates Ace Frehley and Peter Criss should perform at the ceremony instead of the original four, while it was the original four who were inducted. The result was no one played. Don't make the audience listen to you give speeches if you're not going to let us listen to you play. You should have boycotted the whole thing. Don't punish your fans who came for you (there were plenty of people wearing the band's t-shirts).
Cat Stevens was next, with an introduction by Art Garfunkel. Truthfully, I missed it to charge my phone, visit with a friend, and use the bathroom. I also missed Stevens' acceptance speech. I came back in during his performance of Father and Son, followed by Wild World and Peace Train. Seeing the old photo of a baby-faced Stevens and seeing here the 60+ aged one was a fun contradiction. What hadn't changed? The fact that his voice sounds exactly the same, as smooth and sweet as ever. The crowd was really in to his performance, as expected.
Linda Ronstadt, unfortunately could not be present for her induction, as she no longer sings or travels (most likely due to her Parkinsin's diagnosis). Musician Glenn Frey spoke passionately of her in his introduction. "It's about time," he said in a booming voice. "Linda's legacy gives us so much to celebrate and contemplate." He informed me how she pioneered country rock and had no interest in being a star, that she just wanted to be an artist.
"Linda lives in a place where art trumps commerce," he says. "Where hard work and integrity trump fame and failure. She never wanted to be a star — she only wanted to make good music." Frey also discussed how Ronstadt formed her band with himself, Don Henley, and other members who would eventually become the Eagles. Cool fact! Her music played throughout her intro video and I couldn't help singing along. She has so many excellent songs and the audience was on the edge of their seat to see who would be coming out to sing for her.
We were blown away by the vast array of songstress superstars who arrived to perform in Ronstadt's place. Carrie Underwood arrived first, to sing Different Drum, and was then joined by Emmylou Harris and Bonnie Raitt to sing Blue Bayou. Sheryl Crow was then announced, singing lead vocals on You're No Good, with the other ladies singing stellar back-up. Finally, the legendary Stevie Nicks was presented to sing lead on It's So Easy. All five women then sang When Will I Be Loved. It was an incredible set. And with Ronstadt's face shining behind them, and her spirit coming through in her music, she was definitely a presence on stage after all.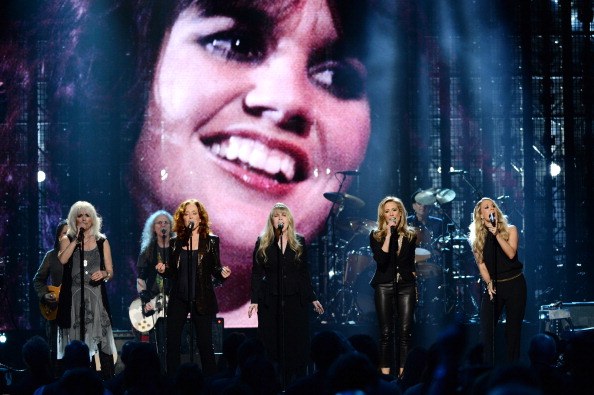 (Photo by Larry Busacca/Getty Images)
Bruce Springsteen was inducted into the Hall of Fame 11 years ago, but this year was the golden ticket for his compadres in the E Street Band. Springsteen, of course, gave the introduction, looking thin but handsome as ever. He described the band's forming and spoke honestly and eloquently. He stated, "the hallmark of a great rock and roll band is that the narrative you tell together is bigger than the one you could tell on your own." Springsteen also described how Steven Van Zandt stood in Springsteen's kitchen the day of the his induction 11 years ago and told him to insist his band was inducted too. But because of past grievances, pride, and some lingering tension, and because they had just reformed the band after over a decade apart, Springsteen denied this request. But he was beyond proud to induct his leading lady in life (Patty Scialfa), one of the band's guitar players, and the rest of the E Street Band into the Hall of Fame Thursday. Springsteen spoke for at least 15 minutes. Then the dozen or so members of the band got up on stage. And spoke. One by one. Some for more than ten minutes. I totally understand why it was their right to all speak, but keeping your speech to under five minutes, at most, per person would have been a whole lot cooler. All in all, over an hour was dedicated to their induction, not counting their performance.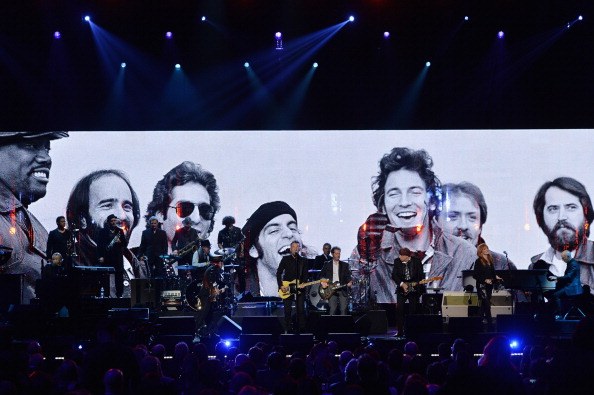 (Photo by Larry Busacca/Getty Images)
I love Bruce and the Band and I could not wait for them to finish up and start to playing, more and more as they kept talking and talking and talking. I've seen them in concert almost ten times in the last eight years (my ex was a Bruce loving, die hard Jersey Boy, and he taught me the pleasure of a Bruce concert, something I've passed on to my current boyfriend). Each concert of theirs I went to was over three hours long and, as a big fan myself, I know their music very well. But I didn't enjoy their set list Thursday at all! I only knew one song of the three (the slow, downer of a song, The River) and the last one (Kitty's Back) went on FOR-EV-VER. The first song was E-Street Shuffle.  Kitty turned into a jam session that lasted at least 15 minutes, and even as a big fan of the group's music, I did not find it enjoyable at all. In total, this particular induction took at least 90 minutes, ending after 10 pm. I couldn't help but be reminded of my very early morning wake-up call at this time.
Who doesn't love Hall & Oates? I honestly don't know anyone who doesn't sing or bop along to their songs. I love 'em! The Roots' drummer, Questlove, introduced them, wearing a "Hall & Oates" t-shirt (his trademark is t-shirts with words or phrases on them). Questlove claimed "they single-handedly reinvented the Carlton Dance for people in the 'hood. Hall and Oates will cure any known illness." He also made everyone nod in agreement when he said "I'm gonna list all the duos in the rock era that were more popular than Hall and Oates … okay, I'm done,"pausing for a moment for comedic effect. "They crossed all the boundaries, because that is what great music does."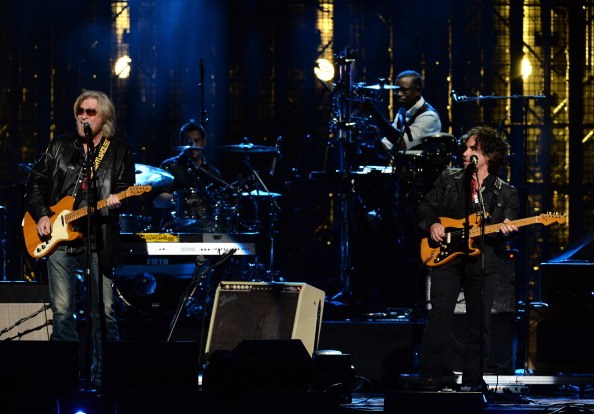 (Photo by Larry Busacca/Getty Images)
When the duo and their band took the stage to perform, I was elated. They were not feeling that way, however, when they started to play and the music wasn't synched up, with their microphones/equipment not working right. Daryl Hall and John Oates made the perfect executive decision to stop playing in order to fix the problem. Hall said he couldn't hear himself, and you can't perform that way. He then joked around, saying how he could tell stories of the band forming all night while he waited for the problems to be fixed. A true musician will wait it out, refusing to play until he can play top-notch. Luckily for all of us, it only took two minutes or so, and then they played a rockin' set filled of hits that had everyone dancing and singing along (She's Gone, I Can't Go For That (No Can Do), and You Make My Dreams Come True).
Last but most certainly not least, came Nirvana. The press had revealed the day before that Joan Jett would be performing in Kurt Cobain's place, but I had a feeling there was going to be more up their sleeves than what they'd let the press get hold of. Michael Stipe, lead singer of R.E.M., gave a powerful introduction speech ""Nirvana were artists in every sense of the word," said Stipe. "Nirvana tapped into a voice that was yearning to be heard. They spoke truth and a lot of people listened." 
"They were singular and loud and melodic and deeply original," Stipe continued. "And that voice. That voice. Kurt, we miss you. I miss you. This is not just pop music. This is something much greater than that." After he finished, the remaining members of the first of the Seattle grunge bands took the stage. I am a HUGE Dave Grohl fan, as the Foo Fighters are one of my all-time favorite bands, so I was very excited to hear him talk. The Nirvana drummer is also a great public speaker and a ham, so of course his speech was great. "Kurt was an intense artist, and he really connected to a lot of people," Grohl said.
Bassist Krist Novoselic spoke next, stating, "Nirvana fans walk up to me every day and say thank you for the music. When I hear that, I think of Kurt Cobain." Novoselic was followed by Cobain's mother, Wendy O'Connor; and his sister, Kim. "He'd be so proud," O'Connor said in her two minute at-most speech. "He'd say he wasn't, but he would be." Courtney Love, Kurt's widow, also spoke quickly, but was booed from all sides of the theater. She powered through it and said Cobain would have appreciated the honor. Love embraced Grohl and Novoselic in their most visible physical interaction in decades.
Then it was time for the reunion concert we had all been anxiously waiting for. Grohl and Novoselic were joined by guitarist Pat Smear, a beloved member of Foo Fighters who used to play live with Nirvana, most notably on their famous MTV Unplugged performance. Novoselic informed the audience that they would be joined by a number of female singers, each one introduced by Novoselic before their respective song. Amazing!
Joan Jett did indeed come out, and rocked the place singing Smells Like Teen Spirit. Kim Gordon, lead singer of Sonic Youth, came out for Aneurysm. Before she even started singing, she was half dancing-half moshing around on the stage. Her outfit was straight out of the 90's, as she wore a little striped t-shirt dress. She so looked the part! I loved Gordon because she was so active on stage that she actually fell, and she just kept singing from the floor. Awesome! Way to stay in the moment and even make it look cool.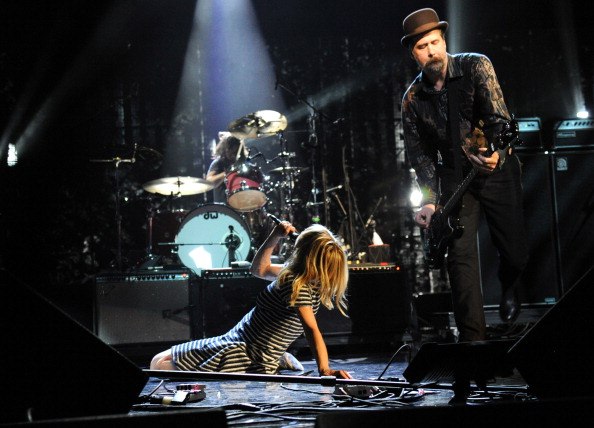 (Photo by Kevin Mazur/WireImage)
Next came a newer singer, St. Vincent (Annie Clark), who did an incredible rendition of Lithium. Her voice is great and she is fantastic looking, with spiky blonde hair, a cute little body, and a pretty face. Finally, Lorde was announced, and she came out and closed the show in fabulous fashion, singing All Apologies. Just a few days earlier, Lorde was announced as leading the list of finalists for the upcoming Billboard Music Award, nominated for a dozen awards. This girl is on fire and having her there added a hip, young, coolness to the event that it kind of needed, which I didn't realize until I saw her. As soon as Lorde finished that last "all in all is all we are," it was announced, at 12:30 am, that the show was over.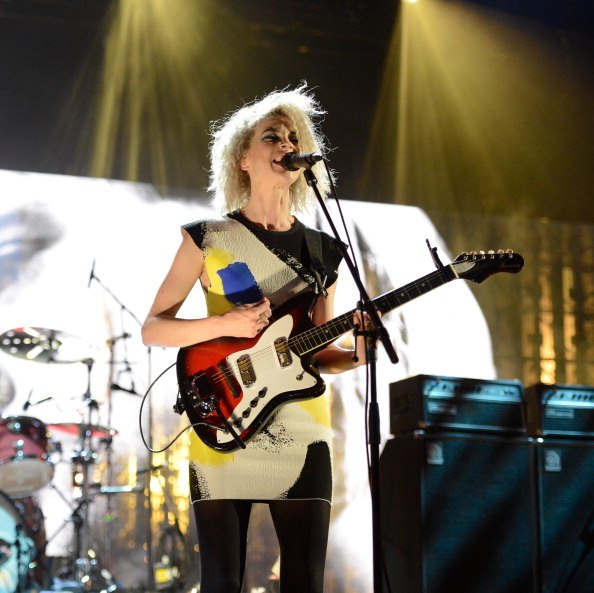 (Photo by Kevin Mazur/WireImage)
My spontaneous decision to buy tickets became one of "the best birthday gifts" my boyfriend had ever received and, without a doubt, was one of the most amazing nights in my music-obsessed, concert-going life. I am still stupefied by the astonishing list of musicians I saw gathered in one place and honoring artists I admire was a beyond cool way to spend a night.
The ceremony was most likely held in New York because this fall, the Rock and Roll Hall of Fame and Museum will open a 25,000 square foot ANNEX location in the heart of Soho. It is described on the Hall's website as an "experiential, technologically advanced exhibition" focusing "on the greatest moments in rock history." It promises to "resonate with everyone from the casual music fan to the seasoned rock enthusiast." This is amazing news and I will definitely plan a visit.
Here's hoping next year's ceremony will be in Brooklyn again! If it is, I know I'll be there.
(Lead Photo by Larry Busacca/Getty Images)