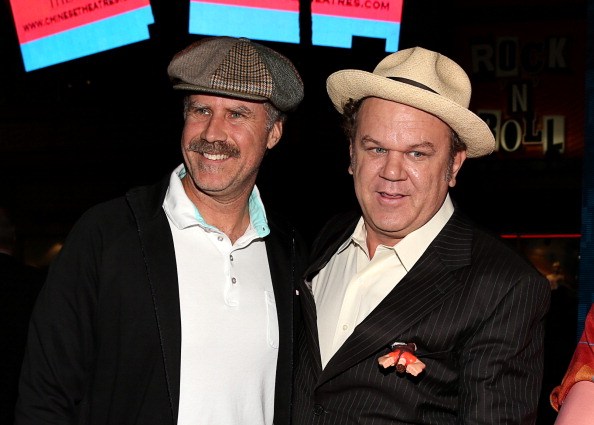 Fans of the quirky 2008 comedy Step Brothers or the 2006, Formula One racing spoof Talladega Nights, are rejoicing. Co-stars Will Ferrell and John C. Reilly are in talks to reunite for Sony's upcoming movie, Border Guards.  The comedic duo and silly tag team are in talks to play a pair of friends who decide to become boarder guards. No surprise, they face a series of mishaps and end up stranded and stuck in Mexico. Their longtime pal and collaborator Adam McKay might direct, with The Thick of It's Jesse Armstrong writing the script. McKay has written and/or directed many of Ferrell's comedies. He wrote both Anchorman pics, The Campaign, and The Other Guys, and directed those same movies, plus both Talladega and Step Brothers. It was also McKay's daughter Pearl who famously played the landlord in the short comedic film of the same name, starring Ferrell. McKay directed the piece as well.
Sharon Stone has been cast in the action comedy American Ultra, in a role originally intended for an actress with certain similarities to Stone, Uma Thurman. Both actresses are of similar age, and tall, statuesque, beautiful blondes. The Lionsgate film stars Jesse Eisenberg as a hapless, unmotivated stoner whose small-town life gets flipped upside down when he becomes the target of a government operation. It turns out he has a secret past as a sleeper agent that finally comes back to haunt him. Kristen Stewart plays his live-in girlfriend, with the list of stars continuing. Bill Pullman, Tony Hale, Topher Grace, and John Leguizamo will also be in Ultra. Production began this past Monday in New Orleans.
Thomas Haden Church and Jay Hernandez have joined Max, an MGM drama about a PTSD-stricken military dog who goes to live with the grieving family of his dead handler. Hellion's Josh Wiggins will star as the young boy who bonds with the erratic, but I'm guessing super lovable, dog. The film will be directed by Boaz Yakin.
(Photo by Christopher Polk/Getty Images)