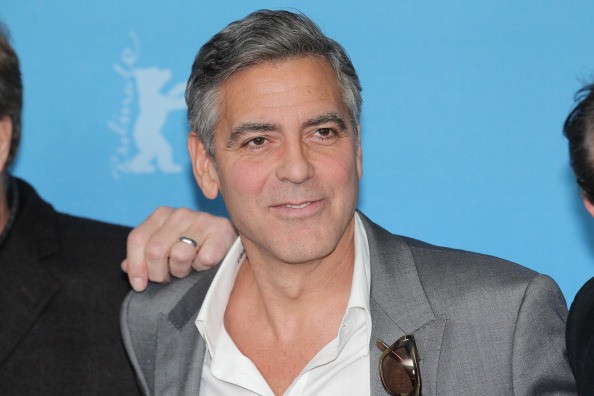 The planet's most eligible bachelor has found his next leading lady. The superstar and super handsome George Clooney stepped out on the town with his new girlfriend, lawyer Amal Alamuddin last night in New York City. The tall, dark-haired beauty was spotted leaving the ritzy Carlyle Hotel with Clooney Tuesday night (See the photo here on TMZ.com). Alamuddin looks posh in a pink peacoat, black scarf, and smile on her face. The actor looks dapper in a black coat and grey coat. They are a striking pair!
So who is Clooney's new gal pal? Alamuddin, 36, was born in Beirut, Lebanon and is now a lawyer based in London. She specializes in international law, human rights, extradition and criminal law and attended Oxford and NYU School of Law.  In 2011, she began representing WikiLeaks founder Julian Assange in his extradition proceedings in Sweden. This beauty has serious brains. Alamuddin is fluent in French and Arabic and co-wrote a book entitled The Law and Practice of the Special Tribunal for Lebanon. She also has been appointed to numerous U.N. commissions and is an advisor to former United Nations Secretary-General Kofi Annan on Syria. To top it off, Clooney's new lady was also voted the most eligible bachelorette in all of the UK in 2013!
At 52 years-old, Clooney continues to romance some of the world's most beautiful woman and he will most likely continue to do so until he's old and gray (he may be gray-haired now but he's definitely world's away from being "old").  The new duo is clearly full of energy. Clooney and Alamuddin have been jet setting around the globe, to no one's surprise. They have been spotted vacationing together in the Seychelles and on a safari in Tanzania (See their vacation photos here on People.com).
Tough life, lady.
(Photo by Gisela Schober/Getty Images)