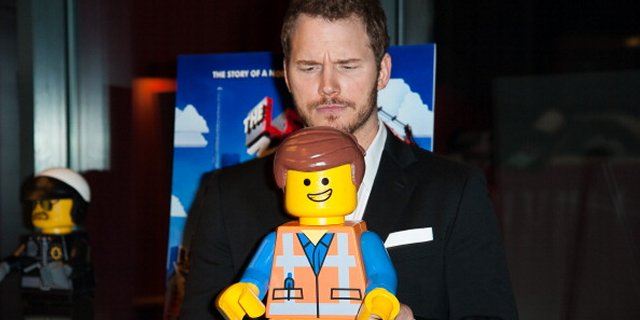 Children's movies that adults can love are the ideal movie-going experience for families. The Lego Movie goes beyond that and is supposedly so great that it is a movie for anyone and everyone, with or without children. It received an "A" rating by Entertainment Weekly and has been hailed in People, Forbes, Time, and so many others periodicals. EW's Owen Gleiberman wrote, "It's hard to think of the last time a Pixar film made you go 'Wow!" That's part of why The Lego Movie is such outrageous and intoxicating fun. It may be a helter-skelter kiddie adventure built out of plastic toy components, but it's fast and original, it's conceptually audacious, it's visually astonishing, and it's 10 times more clever and smart and funny than it needed to be. Here, at last, is an animated comedy that never stops surprising you."
Well, the masses certainly agree with all that. The Lego Movie continued to crush the opposition at the cineplexes, beating out weekend openers Pompeii and 3 Days to Kill, the later starring Kevin Costner. Lego scored its third straight win at the domestic box office, with an estimated $31.5 million in three days (down just 37%) for a total Stateside cumulative audience of $183.2 million, as reported by Variety.com. The natural disaster epic Pompeii was financed for a hefty $100 million but collected a mere $10 million, while the $28 million-budgeted Costner-fueled action flick bowed with $12.3 million. Pompeii, directed by Resident Evil auteur Paul W.S. Anderson, cost $40 million more than The Lego Movie and may already be considered a failed venture.
3 Days to Kill stars Costner as a CIA hit man with brain cancer trying to reconnect with his estranged wife and daughter before his death. The movie seemed to have limited publicity prior to its opening, as commercials and advertisements were scarce. Costner has had modest marquee allure in the last few years, so this past weekend's opening for 3 Days to Kill is considered encouraging. 3 Days is his first starring film role since 2008's Swing Vote and his biggest three-day debut since 2006's The Guardian, which co-starred Ashton Kutcher ($18 million). Since 3 Days was made for a thrifty $28 million, this movie is considered on the right track for serious profits.
No matter what your interests, there are many great movies in theaters to choose from! It seems in everyone's best interest to go see The Lego Movie while it's available on the big screen in 3D.
Photo by Dave Kotinsky/Getty Images