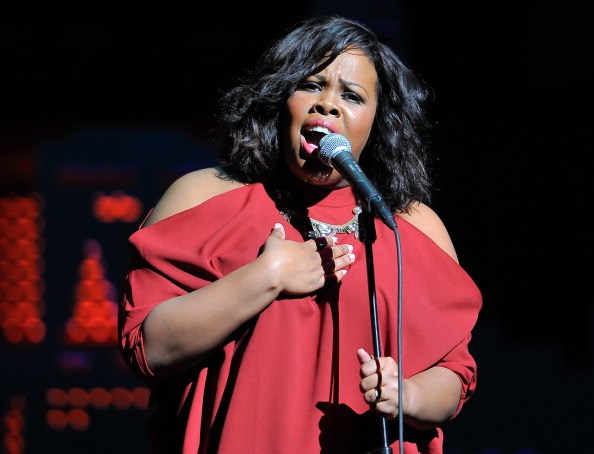 Are you a Gleek? I certainly am. I've watched every Glee episode ever and if you are, you know too that some episodes and seasons have been better than others. You also know that there are some musical moments in the show that are beyond superb, that leave you speechless and give you chills. Amber Riley, who plays Mercedes, the solo artist who recently moved from L.A. to join the gang in New York City, gave us one of those magical musical moments this past Thursday.
It's definitely not a first that a Mercedes song would be the highlight of an episode. Riley's voice is like a gift from the gods. But what made this scene even more special than usual was that, when Riley was performing "Colorblind," she was actually singing her first song as a real life solo artist. "Colorblind: is Riley's first single and it was amazing that the show's creative director Ryan Murphy gave her the platform to perform it on Glee.
The song fit perfectly into the storyline, causing me to wonder if it was penned with the show's plot in mind or if the show crafted her story to fit the song. "Colorblind" tells the story of a woman who is feeling so skewed and confused over a guy that it's as though she can't see color anymore, only thinking and seeing in black and white. The lyrics and the rhymes are really beautiful and the melody is too. Riley could sing the alphabet and it would be extraordinary, so this has all the elements to be a hit song. Especially since is was written by hit singer/songwritters Emeli Sandé, Claude Kelly, and Steve Mac
Prior to the episode airing, Riley premiered the song live on April 3, 2014 on The Queen Latifah Show. Watch the performance here. I really recommend it! "Colorblind" was released as a digital download on April 8.
We Gleeks are so, so glad Mercedes is back on the show full time!
 (Photo by Steve Jennings/Getty Images for The Painted Turtle)