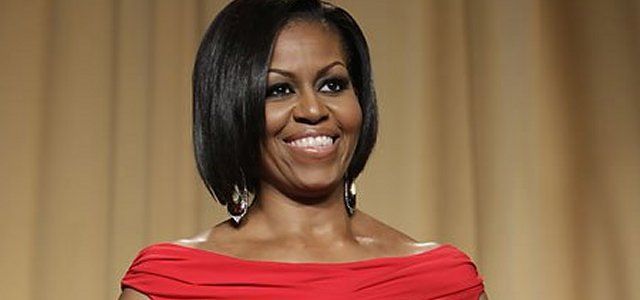 No matter your political position on her husband, you can't deny that Michelle Obama is a fashion icon.  What is it about her that turns heads?  Why do we love her?  And how can we copy her look?
Since Michelle Obama came into the political world alongside her husband, we have sat up and took notice of her.  She has that special something we all want to have.   How exactly can we copy it?
Michelle Obama is very feminine.  She is most often seen in elegant, classy dresses or a skirt with a coordinating top.  Her dresses are attractive with just a touch of sexy but not enough that she isn't taken seriously.
Michelle Obama is very toned.  This one can't be bought, ladies.  That is nothing but pure hard work.  She knows what her best features are and shows them off to her advantage.  We can learn from this.  Play up the best, down play the rest.
She works her accessories.  She isn't overly accessorized but you won't often see her bare of them.  She knows how to put the finishing touch on an outfit.
She often wears pearls; not the greater part of time but often enough it is noticeable that they are a staple she goes to time and again.  Pearls are a very easy touch we can imitate in our wardrobe.  They take an outfit all the way to the next level.  Pearls are pure elegance on a strand.
Michelle Obama is very comfortable in her skin.  It shows in the way she walks, the way she stands.  Confidence is very attractive.
While she dons the occasional casual look, it is very tastefully put together.  You will see her in slacks with a trendy top or bold pieces that surprisingly work well together.
We may or may not have enjoyed President Obama's time in office but we have certainly enjoyed learning from his wife's fashion ventures.