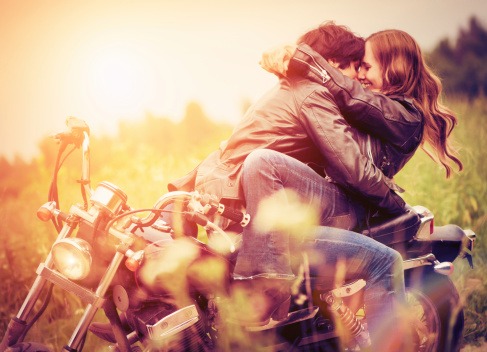 Us women love a good romance anything- book, mini-series, play, television show, and so on. But it is a great romantic movie that really sucks us in, making us laugh, cry, think, yearn, dream, and quote for years to come. A powerful romance film inspires us and leaves a permanent imprint on our hearts and in our minds. Here are five of the very best.
Pride and Prejudice
There have been many versions of this outstanding, utterly romantic Jane Austen novel. But it's the 2005 movie version starring the beautiful Keira Knightly and the relatively unknown Matthew Macfadyen (all the better, he truly encapsulated the part of Mr. Darcy) that women the world over truly fell for. Knightly is phenomenal as the intelligent, strong-willed, and believer in true love, Elizabeth Bennet. Macfadyen plays the stubborn, quiet, and eventually beyond-romantic Mr. Darcy to a tee. Sparks fly when they meet but not until after they have rubbed each other the wrong way time and time again. Because Elizabeth is below Darcy's stature, he is reluctant to fall for her, but of course he can not help it. At the end, when Darcy kisses Elizabeth's forehead and face over and over and calls her "Mrs. Darcy," repeated, you will feel light-headed every single time. And the old English/Jane Austen language and accents? SO ROMANTIC!!

(Photo courtesy of inalonelyplaceencounterswithfilm.wordpress.com)
The Notebook
No list of the best romance movies could skip this phenomenal and touching film. Ryan Gosling became a household name and started a chain reaction of women swooning everywhere when he romanced Rachel McAdams in this 2004 flick based on the popular Nicholas Sparks novel. The duo starred as a couple who fall in love in the 1940s. They come from different worlds, particularly socioeconomic classes, and it is beyond romantic how they realize they can't be apart no matter who believes they should (including themselves at some points!). The scene in the pouring rain made The Notebook an instant classic and has made every woman crave receiving a power speech from a man at some point in her lives.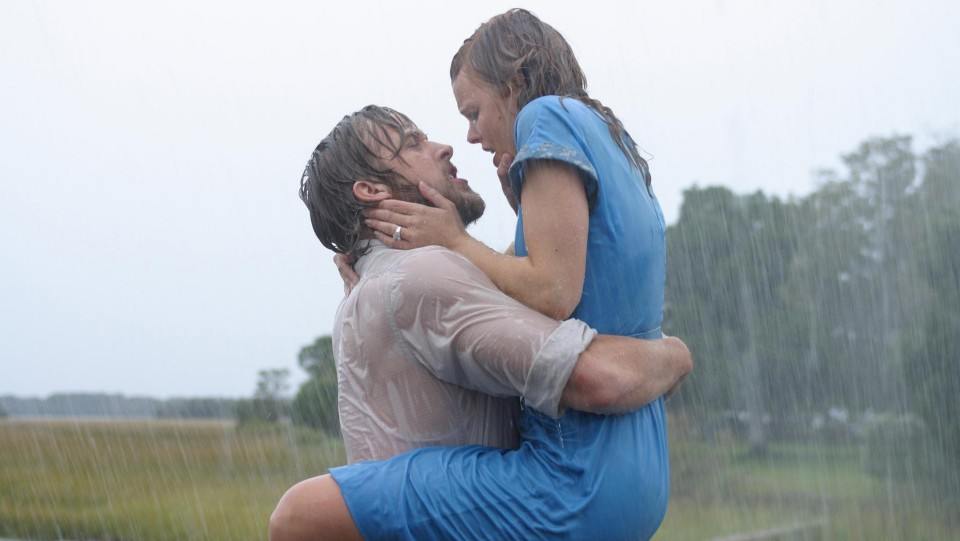 (Photo courtesy of Drafthouse.com)
The Wedding Singer
Drew Barrymore is just the most lovable actress. All her movies are enjoyable. And when paired with Adam Sandler, another movie home-run winner, they are an unbeatable team. The Wedding Singer is an adorable, funny, cute, totally wonderful movie filled with fantastic 80's songs and a totally sweet love story. Sandler's Robbie meets Barrymore's Julia when he sings at the weddings and b'nai mitzvahs where she waitresses. Their sweet friendship blossoms into a tender romance. The scene on the airplane when Robbie serenades Julia is what cemented this movie as one of the all-time best romantic films.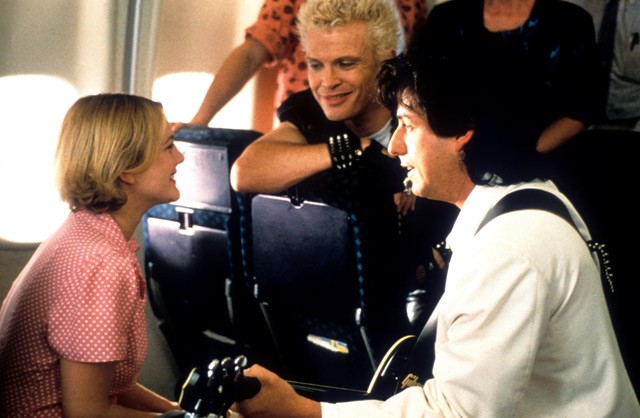 (Photo courtesy of femme-gems.com)
Love Actually
This movie weaves multiple stories and countless characters together into one amazing whole. Emma Thompson, Keira Knightley, Hugh Grant, and Liam Neeson were among the many stars who appeared in this 2003 ensemble story about Londoners looking for love the month before Christmas. Each storyline is woven in some way around love, both romantic, familial, and cordial (i.e. friendship). From the happy to the bittersweet, all emotions affiliated with the act of loving are included in this fine film. Love Actually's highlight is the story involving Colin Firth as a recently divorced man who's wife cheated on him. He moves away to write a book and ends up falling for the woman (played by Lúcia Moniz) cleaning his vacation home. In the movie's best scene, he travels around her home town on his way to propose to her, as he collects her Portuguese family members and neighbors along the way. When he proposes inside the restaurant where she is waitressing, Love Actually officially became a romantic movie classic.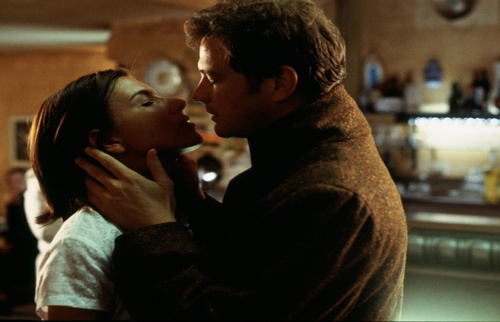 (Photos courtesy of listal.com and youaresocool.net)
Notting Hill
Julia Roberts is a romantic movie superstar. You could really pick any of her movies to make this list. The same is true for Hugh Grant, and we did already pick one of his other movies for the list. But it's perfect pairing in the truly romantic Notting Hill that had to be in our list of the top five best romantic movies. This wonderful tale of a mega-movie star (Roberts) falling for a London bookshop owner (Grant) is everything one could want in a romantic movie – sweet, funny, interesting, and with lovable stars, good music, and a great love story. When Anna tells William that she may be a movie star, but she is also "just a girl, standing in front of a boy, asking him to love her," people everywhere fell in love with this movie and have never fallen out.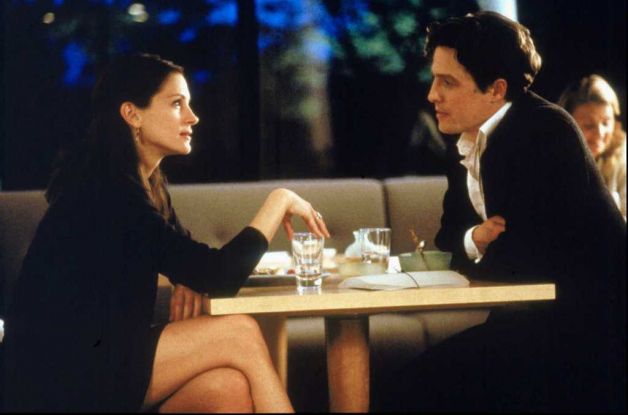 (Photo courtesy of timesunion.com)
Honorable Mentions:
Pretty Woman, Forgetting Sarah Marshall, 50 First Dates, Prime, 10 Things I Hate About You, Sweet Home Alabama, Bridget Jones's Diary
(Lead Image courtesy of Getty Images)