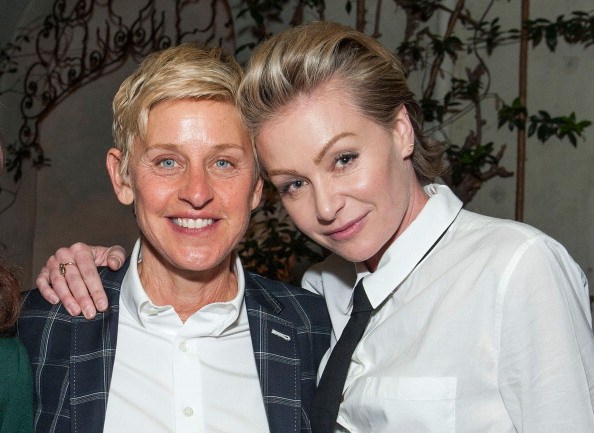 Fans are anxiously awaiting the return of ABC's Scandal after last April's season three finale. Olivia has jet-setted off into the sunset with Jake, leaving behind a devastated Fitz, who had just lost his son and found out about his father's terrible behavior towards Mellie. It appears that Washington D.C. now belongs to Olivia's father, who took over B-613 once again.
It is unclear what exciting things await the fans in the upcoming fourth season. But thanks to a Twitter post by Ellen DeGeneres, the world now knows that her beautiful actress wife, Portia de Rossi, has been cast on the show for a multiple-episode arc. DeGeneres first announced the news on Twitter, bragging about her wife's "top secret" storyline.
The talk show host tweeted, "So annoying when people brag on twitter & that's why I'm not tweeting that Portia just signed on to do a top secret arc on 'Scandal'. Oops."
The 56-year-old comedienne couldn't contain her excitement as she informed her 29.8 million Twitter followers of the thrilling news, which has since been confirmed.
DeGeneres and de Rossi have been together since 2004. After the overturn of the same-sex marriage ban in California, DeGeneres announced on a May 2008 show that she and de Rossi were engaged, and she gave de Rossi a three-carat pink diamond ring.  The couple were married in August of 2008 at their home.
The 41-year old striking blonde actress has starred on multiple television hits including Arrested Development, Nip/Tuck, Better Off Ted, and Ally McBeal, which was her major debut as a TV actress.
Secrets will be revealed when Scandal returns to ABC on Thursday, Sept. 25 at 9 p.m.
(Photo by Valerie Macon/Getty Images)