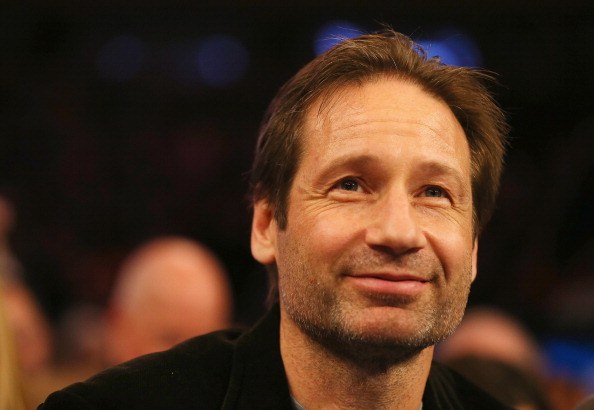 David Duchovny is set to star in another television series, an NBC drama based on Charles Manson. The television star has a great track record of playing small screen leading man, playing both very different characters to a tee. Writer John McNamara ("In Plain Sight," "Profit") will executive produce with Duchovny, Marty Adelstein ("Prison Break," "Last Man Standing") and Melanie Greene.
The Golden Globe winning actor will play an L.A. police sergeant tracking a small-time criminal and budding cult leader who seeks out vulnerable women to join his "cause." This man goes by the name of Charles Manson. Duchovny's character will have a troubled personal life.
 NBC announced Monday that it has ordered the show, titled Aquarius, for 13 episodes. The series is set in the late '60s and is being billed as an "event series."
"Event series are a big priority for us, and the combination of a show that charts the lead-up to the Manson murders, along with a television star of the magnitude of David Duchovny, is the very definition of an event," said Jennifer Salke, President, NBC Entertainment. "We're thrilled to be working with these talented producers, including Marty Adelstein and creator John McNamara, to present something truly original."
"The twists and turns of a complicated undercover operation will lead Duchovny's character and his young partner to the brink of Manson's crimes that will eventually lead to the Tate-LaBianca murders in subsequent seasons," according to NBC, as reported by
Entertainment Weekly
.
The Tate and LaBianca murders were two of the Manson cult's most well-known crimes. On Aug. 9 and 10, 1969, these two sets of grisly murders took place in Los Angeles. The first day, a gang of four people brutally killed actress Sharon Tate, who was married to director Roman Polanski and was 8 and a half months pregnant at the time. Four of her friends and the son of the gardener were also killed.
On Aug. 10, the Manson clan killed supermarket executive Leno LaBianca and his wife.
It would take authorities nearly five months to track down Manson and his "family."
Expect Aquarius to follow in the same vein as Hannibal, The Following, and other dark, creepy television dramas that are delightfully pushing the boundaries of television programming.
This is very exciting news for fans of the The X-Files veteran and Californication star, myself included. Duchovny has truly been exceptional as both Agent Fox Molder and Hank Moody. As Molder, he played inquisitive, stoic, and intense, and as Moody, he is kooky, confident, and a bit maniacal. Duchovny won two Golden Globes, one for each starring role, and was nominated for an additional three times for X Files and three times for Californication. The actor has been nominated for a total of four Emmy's, two for playing Molder and two for guest acting roles.
Showtime's Californication begins its seventh and final season on April 13.
(Photo by Elsa/Getty Images)