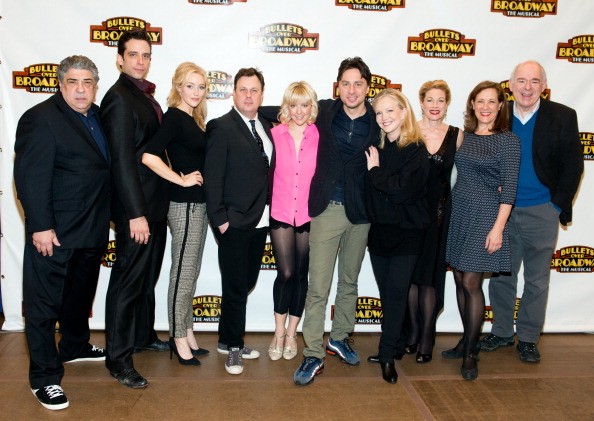 Any visit to a Broadway production has the potential to be a night to remember. Walking down the streets in the theater district on your way to the show, your heart begins to beat a little faster with excitement as you anticipate the enjoyment that lies ahead. What's that? You don't consider yourself a theater person? Well, I'm certain that one of the Great White Way's newest musical additions is sure to please you anyway.
Bullets Over Broadway, which recently opened at the St. James Theater, is based on the 1994 Woody Allen film of the same name. The movie, starring John Cusack and Dianne Wiest (who won an Oscar for her role) is a funny story of a struggling playwright in 1920s New York. In order to get a play financed for Broadway by a mob boss, the playwright must cast the boss's girlfriend in a role. Jennifer Tilly was hilarious in the part of girlfriend Olive, the completely talentless actress who basically ruins the play. Olive is accompanied to rehearsal every day by a gangster (Chazz Palminteri) for protection, who ends up rewriting the play and turning it into a hit. The movie is funny and one of my personal favorite Woody Allen movies, who directed it alone but wrote the film alongside Douglas McGrath.
Bullets Over Broadway was the perfect choice for turning one of Allen's films into a stage production. Allen himself wrote the new show's screenplay, while direction and choreography is done by none other than Susan Stroman, a Broadway hit-making machine. Stroman is a five-time Tony Award winner, one for Best Direction for The Producers and four for Best Choreography (The Producers, Contact, Show Boat, Crazy for You). The new musical stars Garden State and Scrubs alumni Zach Braff in Cusack's role as the playwrite and director. Between all these elements and the word on the street that lead actress Marin Mazzie (in Wiest's role) is amazing in the show, I was expecting an amazing night at the theater.
I was instantly disappointed when I learned right after walking through the theater doors that Mazzie would not be performing in the production that night. But honestly, it made no difference. Her understudy, Swoozie Kurz look-alike Janet Dickinson was excellent as well. Her humorous turn as the overly-dramatic, self-loving Helen Sinclair was the perfect counterpoint to Braff's nervous, nebbishy David Shayne. Braff surprised me with his nice singing voice and is funny and very expressive as he looks dismayed and disappointed again and again. Braff really delivers, as he is truly talented and deserving of headlining a Broadway show.
Olive, the foghorn-voiced role played perfectly in the movie by Tilly, was the part I was most excited to see. Master's of Sex actress Heléne York is great in the role and really delivers as well. She is as ingratiating as she is supposed to be while also being humorous and talented in the role. The Soprano's Big Pussy, Vincent Pastore, plays her boyfriend, the mob boss. Even though Pastore is not a singer and not even a great actor, he really doesn't need to be. It's fun to see him for a few minutes on stage after watching him on the HBO hit series. As Cheech, the gangster bodyguard/secret playwright, Nick Cordero is pure confident-sexy-cool and perfect in the role. His low, smooth voice is a welcome sound every time he sings.
The changing between scenes is extremely fluid, lending a cinematic quality to that show that matches it's predecessor. There's cars on stage and other cool elements to the set that transport you to the different settings well. The music is also very nice and enjoyable. The show is filled with no original music, but instead 20's-era jukebox golden oldies, such as "Let's Misbehave" and "Tain't Nobody's Biz-ness If I Do." The tunes are catchy and fit into the storyline perfectly. But it's Stroman's show-stopping dance numbers that are the highlight of the show. The chorus line ladies draped in mink and the tap-dancing pin-striped gangsters will put a smile on anyone's face. The ladies are gorgeous, the men attractive, and all are amazing dancers and performers. What's not to like?
If you can't make it to NYC, do yourself a favor and at least watch the film version. You will really enjoy it. And eventually, the stage production will go on tour. I hope it stays playing on the stage for a long, long time, as Bullets Over Broadway makes for a fun, laugh-filled night at the theater and is a show that will definitely catch on.
(Photo by Noam Galai/WireImage)