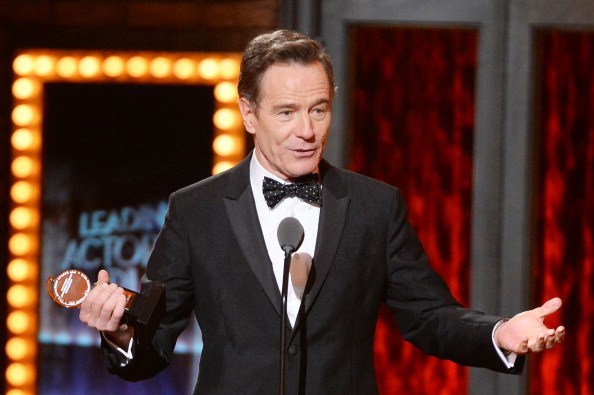 It really is no surprise that a play starring super-actor Bryan Cranston would go on to break Broadway records. After starring on the unforgettable AMC series Breaking Bad, and winning more awards than anyone could count, Cranston moved on to the Great White Way to play President Lyndon B. Johnson in All the Way. 
The play, written by playwright Robert Schenkkan, grossed $1,425,001 for the week ending June 22. That eight-performance total is officially the new total for the most money ever made in a single week for a straight play on Broadway.
All the Way premiered on Broadway in March 2014 and led to Cranston winning Best Actor and the show winning Best Play at the Tony Awards earlier this month.Cranston is such an amazing actor that his win was another occurrence that shocked absolutely no one. All the Way recouped the play's initial $3.9 million investment in May and the show would could easily run successfully for a long, long time. However, the play will end its limited engagement as scheduled this week.
The play takes place shortly after the assassination of John F. Kennedy in 1963 and continues through Johnson's landslide reelection on November 3, 1964. During his first year as president, Johnson engineered the passage of Civil Rights Act of 1964.
All the Way is the first of two plays by Schenkkan that portrays Johnson's presidency. The second play, The Great Society, will be premiering at the Oregon Shakespeare Festival next month. Jack Willis, who played Johnson at All the Way's Oregon premiere, will play Johnson again in Great Society when it opens in Oregon. The sequel will also be directed by All the Way director Bill Rauch and will continue's President Johnson story from 1964 to 1968.
No matter how great a straight play may be, it will be hard for one to beat the witches that have ruled Broadway for years. Wicked still holds the title for the largest gross ever for any show on Broadway when it broke the $3 million mark in one week last December. The Stephen Schwartz written musical premiered on Broadway at the Gershwin Theatre in October 2003 and made household names out of lead actresses Idina Menzel and Kristin Chenoweth.
(Photo by Theo Wargo/Getty Images for Tony Awards Productions)