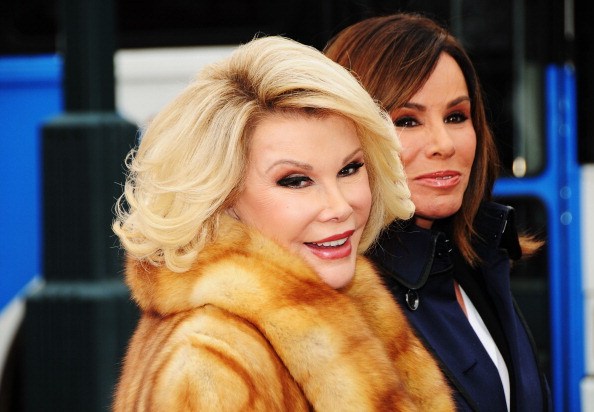 The Broadway League reversed its original decision not to dim the marquee lights on Broadway theaters in honor of comedienne Joan Rivers. The lights did indeed go dark to honor Rivers Tuesday evening. Dimming the lights is the traditional posthumous tribute afforded to deceased stage celebrities/Broadway icons, done typically within the week following their death. The League's original decision not to do it had the theater community up in arms on Twitter.
Rivers, herself a Tony Award nominee, playwright, frequent opening night guest, and huge vocal supporter of Broadway, wasn't seen as qualifying at first. In an interview with The New York Times, Broadway League executive director Charlotte St. Martin explained the League's original decision.
"Under our criteria people need to have been very active recently in the theater, or else be synonymous with Broadway — people who made their careers here, or kept it up," St. Martin told the Times. "We love Joan – she was very supportive of Broadway and came to a lot of show openings – but she hasn't acted on Broadway in 20 years… When you say Joan Rivers, you don't think comedy, television and Broadway. You think comedy and television. It's certainly nothing against her."
The Broadway League represents the interests of theater owners and producers, but its explanation evoked criticism from fans of theater and Rivers, two groups that largely overlap. Industry supporters took to Twitter with the hashtag #Dim4Joan to voice their disagreement with the League's decision. An online petition also started circulating.
Then on Monday, the Broadway League changed its mind and St. Martin issued a new statement – "Joan Rivers loved Broadway and we loved her. Due to the outpouring of love and respect for Joan Rivers from our community and from her friends and fans worldwide, the marquees of Broadway theatres in New York will be dimmed in her memory tonight, at exactly 6:45 pm for one minute."
Rivers's Broadway acting and writing debut was in 1972's Fun City, a show that ran for only nine performances. She then starred in Neil Simon's Broadway Bound in 1986 and in 1994, the funny lady returned to Broadway in her own play Sally Marr…and her escorts. Sally Marr earned her a Tony Award nomination for Best Actress in a Play. Rivers recently revealed that she was actually planning to revive the show this fall.
Rivers wrote about her love for Broadway and the Tony Awards in a recent interview with New York Magazine. The pioneer of female comedians stated, "If you don't go to Broadway, you're a fool. On Broadway, off Broadway, above Broadway, below Broadway, go! Don't tell me there isn't something wonderful playing. If I'm home in New York at night, I'm either at a Broadway or an Off Broadway show. We're in the theater capital of the world, and if you don't get it, you're an idiot."
The dimming of the lights on Tuesday in Rivers's honor was definitely well deserved.
(Photo by Desiree Navarro/WireImage)