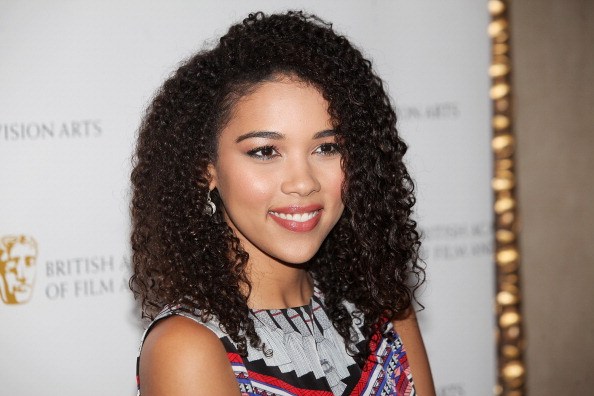 Nickelodeon star Alexandra Shipp has bee  cast as the late R&B singer Aaliyah in Lifetime's upcoming biopic Aaliyah: The Princess of R&B. The 23-year old actress is replacing Disney star Zendaya Coleman, who was original cast in the role. Talk show host Wendy Williams, one of the executive producers of the upcoming original movie, announced last Friday via Twitter that Shipp had been chosen to star as Aaliyah. Shipp's previous film credits include Nicklelodeon's House of Anubis, and guest appearances on MTV's Awkward, ABC Family's Switched At Birth, and Disney's Victorious.
Aaliyah was a chart-topping singer and budding actress when her life was cut short in a 2001 plane crash at the young age of 22. She was returning from the Bahamas, where she had filmed the music video for her single, "Rock the Boat," when the small plane she was riding in crashed.  All nine people aboard were killed.
Coleman left the role in June following criticism of the project by members of the late singer's family. Jomo Hankerson, Aaliyah's cousin and president of her label Blackground Records, told the New York Daily News that the family wanted a bigger release than what Lifetime could provide.
"We want a major studio release along the lines of What's Love Got to Do with It, the Tina Turner movie," Hankerson said. "This needs A-list actors, A-list talent that can breathe life into what we think is a phenomenal story."
Hankerson added that Zendaya's casting was not related to the family's issues with the movie: "It's never been about the actress. The problem that we have is that Aaliyah was an icon and she deserves an iconic tribute, not a Lifetime movie."
Coleman's "Replay" spent 21 weeks on Billboard Hot 100 and she was originally set to sing four songs in the film as well. It has not even revealed yet on whether or not Shipp will also sing in the film.
Aaliyah: The Princess of R&B is based on the biography Aaliyah: More Than a Woman by music journalist and Wall Street Journal editor Christopher Farley. The planned film is set to premiere this fall.
(Photo by Dave M. Benett/Getty Images)