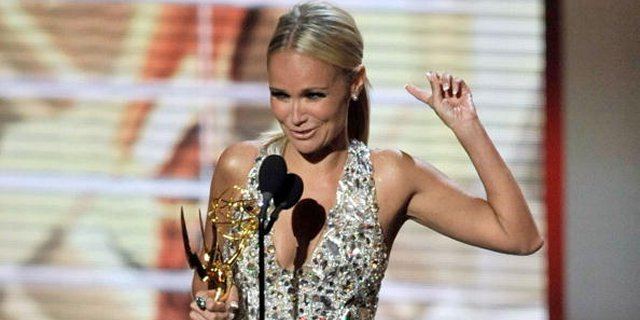 The beloved ABC television show Pushing Daisies aired for only two seasons, from 2007 to 2009, leaving fans wanting more. They may be in luck because the show is being developed in the future as either a musical or a movie. Daisies starred Lee Pace as a pie maker who brings deceased things back to life with the touch of his finger. Perhaps he touched one of the show's Season DVDs?
Bryan Fuller, the show's creator, told E! News that he was inspired by the Veronica Mars Kickstarter campaign-funded film and of Mars creator Rob Thomas. "I'm so jealous of Rob Thomas and the Veronica Mars movie, which looks fantastic!" said Fuller.
Fuller is currently in talks with Warner Bros. and director Barry Sonnenfeld about potentially bringing the ABC series back from the dead. "There's a couple of format options. I would love to do a musical, and I also would love to do a movie [as opposed to a Netflix run], because you have higher impact and it also has an iconography," said Fuller.
The show's cast is full of actors and actresses ideal for the stage, including Pace, Swoosie Kurtz, Anna Friel, Chi McBride, Raúl Esparza, Ellen Greene (Little Shop of Horrors) and Tony Award-winner Kristin Chenoweth. The stars can all sing as singing was a regular part of Pushing Daisies. "I would love to do a musical and make it all about Kristin Chenoweth and her character, Olive Snook," Fuller said. "I think it would be incredible." Chenoweth won an Emmy for her work on Daisies but has yet to comment on whether she would join Fuller to recreate some of the show's musical magic.
No timeline has been mentioned for the production, as Fuller is currently busy with his show, Hannibal, which returns to NBC on Feb. 28.
Rebooting cancelled television shows is the hip new thing to do, as Scrubs is also likely to be premiering on the Great White Way in the future. Show creator Bill Lawrence told Entertainment Weekly, "We always had a musical-theater flair in that show. It's all the same characters, and we're combining two of our best stories with our best comedic moments and fantasies from nine years of the show." Lawrence has written the show's outline and is currently in meeting with composers and shopping the project around to various theater groups. Lawrence reportedly hopes the show will hit the stage by 2017.
The show must go on!
Photo by Kevin Winter/Getty Images