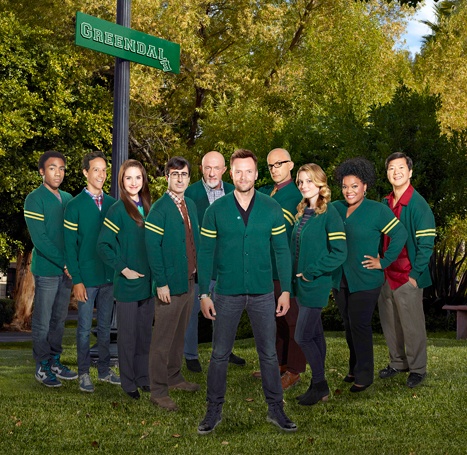 Here is the list of shows that we have to "bid adieu" to, either due to ending naturally (i.e. How I Met Your Mother) or due to cancellation. Hey, you could always begin stocking up on the DVDs if you so choose.  I've included some of my tv-obsessed brain's personal thoughts.
ABC
The Assets- No clue what this show even was.
Back in the Game- This comedy series about a family coaching little league ended after only one season, and starred an almost unrecognizable (what happened to his face??!) James Caan.
Betrayal
Killer Women
Lucky 7
Mind Games
Mixology
The Neighbors- I really enjoyed season one of this silly show. The lead actors were great and it was a fun concept (a family having alien neighbors). But, I just stopped watching it after the first season, so with fans like me, it's no surprise the show got cancelled.
Once Upon a Time in Wonderland- I'm surprised they even made this spin-off in the first place. No surprise.
Suburgatory
Super Fun Night- I watched every episode of this Rebel Wilson show and I was actually looking forward to more of it. Bummer. But no doubt we'll see Wilson again and again, including in the upcoming Pitch Perfect sequel.
Trophy Wife- This extended family sitcom had its moments but was not one of the better sitcoms on the air, despite veteran TV actor Bradley Whitford starring.
CBS
Bad Teacher- I watched the first episode, based on the Cameron Diaz film of the same name. The show had its charms, mainly lead star Ari Graynor as the sassy, unapologetically selfish and feisty fake teacher. But it didn't have enough going on to get me back for a second episode, so another not-shocking cancellation.
The Crazy Ones – This was canceled despite its huge stars Robin Williams and Sarah Michelle Gellar. This is the actresses second time in a row having a show she starred in be cancelled after one season (last year's awesome CW show, Ringer).
Friends with Better Lives 
Hostages
How I Met Your Mother- The end of an era! This show was an amazing ensemble comedy with great writing.
Intelligence
We Are Men
NBC
Believe
Crisis
Community- This is one of the major doozies of the cancellation news because Community is a beloved sitcom that has run for five seasons. The brilliant show about misfit group of students/friend at a community college spoofed different genres in different episodes, keeping viewers constantly on their toes and keeping the laughs flowing. Rumors spread that perhaps Netflix might be a viable outlet with which to save the show, given their past rescues of both Arrested Development and The Killing. The show creator, Dan Harmon, reported that deciding what to do next with the show will be an ongoing conversation.
Dracula
Growing Up Fisher
Ironside
The Michael J. Fox Show
Revolution
Sean Saves the World
Welcome to the Family
CW
The Carrie Diaries- Die-hard fans of Sex and the City, like myself, probably didn't give this show the time of day. I watched one and found the backstory to be so different than the one described by Sarah Jessica Parker's Carrie (particularly a deadbeat dad versus a loving solo parent dad on Diaries) that I found the show just to be too weird to watch.
Nikita
Star-Crossed
The Tomorrow People
Fox
Dads
Enlisted
Raising Hope- This was another show I watched but then stopped without explanation. Sorry! But I love, loved the cast, particular Martha Plimpton and series hubby Garret Dillahunt, who had perfect goofy chemistry, and we will all be lucky to see them in their next roles.
Rake- Despite starring fine actor Greg Kinnear, this show never got good ratings and last just 13 episodes.
Surviving Jack- This sitcom starring Christopher Meloni barely got off the ground (only 8 episodes) before being cancelled.
The X Factor–  Simon Cowell's voice competition is finally leaving the U.S. There really is no competing with ratings titan The Voice or even American Idol.
(Photo by: Chris Haston/NBC/NBCU Photo Bank via Getty Images)