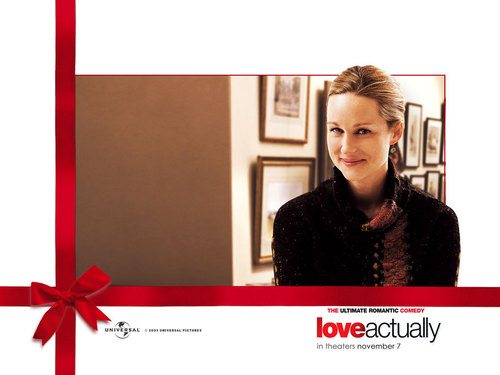 For approximately a decade, Love Actually has been showing fans what it's like to have love around the holidays. The movie, with its great cast and wonderful script, has been a fan favorite since the beginning, and it's hard not to watch it during the holidays. The holiday theme is enough to capture the attention of people who see the movie playing on their televisions this time of year, and it's one that always gets a lot of laughs and a lot of acclaim. And because it's the holidays and we always encourage people to watch as many Christmas movies as possible, we have a list of things you just did not know about the film and we're sharing with you.
Photos by Getty Images

Love, Actually
The name of the movie is one that people do remember very well because it's simple. But did you know that the cast and crew used the phrase in the movie? That's not usually something that happens, but this time it happened approximately 22 times throughout the film. See if you can pick them all out when you're watching this holiday season.
Photos by Getty Images

The Director Had Meetings for Underwear
We've all been to meetings that are little more than a giant waste of time when everyone begins talking about everything but what they're there to talk about. You sit back and think, "What a waste of time," while trying to decide if it's more annoying to sit at your desk and waste time or in a meeting filled with coworkers. However, you never sat through a 45 minute long meeting about panties, did you? Well, the director of this film did when choosing the color of Lucia Moniz's underwear for the scene she jumps into the water.
Photos by Getty Images

It's Got to Be Family-Friendly
This movie is so long that even when ABC adds it to their Christmas lineup each year, they cut the porn scenes and entire storyline, and the movies till lasts 3 hours. Of course, they add their millions of commercials in for that, but still; an entire storyline is cut out and it's still a 3 hour movie. That's pretty impressive, and it's a great way to make the film more family-friendly.
Photos by Getty Images

Touching Airport Scenes
There's nothing quite like being stalked by camera crews through an airport, but all those scenes from Heathrow are very, very real. For one week straight, film crews waited around inside Heathrow to capture the love and moments between real friends, families and couples who were reuniting (and it feels so good). It's all very real and very touching; and only a little bit stalker-like.
Photos by Getty Images

Shallow Lake Issues
The famous scene in which Colin Firth and Lucia Moniz jump into the lake and have trouble swimming in, swimming hard to keep their heads above water wasn't really a lake. It was a puddle of water that was only about 18 inches deep. That's only a foot and a half. That's about the length of a baby when it's freshly born from his mother's womb. We say that was pretty awesome acting on their part, because we were all fooled.
Photos by Getty Images

Bugs Everywhere
On that note, the same "lake" that the actors had to pretend to swim in even though it was barely deeper than a baby is tall was a mosquito breeding ground. Colin Firth was bitten so many times and so badly filming this scene that he ended up requiring the help of medics to attend to his bites. His elbow swelled so badly that he actually had to have medical attention to shrink it when it reached the size of an avocado, according to his camp.
Photos by Getty Images

The Ages Don't Add Up
Hugh Grant plays the older brother of Emma Thompson in this movie, but their ages just don't work out. Despite the fact that he doesn't play her significantly older brother or anything, she's actually almost two decades older than Grant in reality. That's right; Emma Thompson is actually 17 years Grant's senior. How's that for casting?
Photos by Getty Images

There's No One Quite Like Laura Linney
Rumor has it that Richard Curtis really wanted an actress like Laura Linney to play the part of Sarah, and no one was doing it for him. At one point during casting, the casting director lost his temper with Curtis and told him to just get Laura Linney. Apparently, things worked out quite well all around after that happened since she was cast in the movie and for that role.
Photos by Getty Images

No Payment Necessary
Remember the scene in which Kris Marshall's character is undressed by three women? Of course, you do; who doesn't? He had so much fun filming that scene and enjoyed it so much that he actually gave the director back the paycheck he was given for that scene, telling the cast and crew that it was so much fun he was willing to do it free of charge. We bet he was just looking for a reason to be called back to do it again since he works for free.
Photos by Getty Images

Emma Thompson is Not Fat
Of course we know this in real life. However, she did not gain weight to play this role. The very thin and lovely actress was given a fat suit to make her appear larger than she actually is in the movie so that she could play the role she was given. It worked, and it did have people wondering if she was supposed to gain weight for the role or if she was just having an off year.
Photos by Getty Images

She's Also Not that Serious
Emma Thompson had to hold up some Barbie dolls for her daughter's friends in the movie, and she had a tough time with that scene. What's so crazy about that? She couldn't keep a straight face because someone replaced the Barbie dolls with Ken dolls and dressed them up as females. She had to do the scene with drag queen Ken Dolls, which is seriously awesome.
Photos by Getty Images

One Actress Was Set Up
Lucia Moniz plays the woman who captures the affection and attention of Colin Firth's character, but she never auditioned for the movie or had any intention of starring in the film. A sneaky friend sent her photos to a casting director who fell immediately in love with the actress and hired her for the film. Talk about a set up and divine intervention.
Photos by Getty Images

People in the UK Love the Film
In 2004, Love Actually was the most rented DVD in the entire United Kingdom. Perhaps it has something to do with all the British actors and their gorgeous accents, though I guess British people don't care much about their own accents, do they? Whatever it was, the movie was exceptionally popular there a decade ago, and it's still very popular across the world.
Photos by Getty Images

Payback is…You Know What it Is
Direction Richard Curtis once was left for a man named Bernard by a girlfriend he had back in school. So in his career, he's made it a point to name at least one character in each film Bernard. That character is always a hideous person that no one likes. In this movie, the man named Bernard is actually the "horrid" son of Alan Rickman and Emma Thompson. Paybacks are difficult, aren't they?
Photos by Getty Images

Why the Toothpick?
There are many scenes in which Liam Neeson was filmed with a toothpick unceremoniously hanging out of his mouth. The truth is that he was a newly reformed smoker, and his habit was to chew on a toothpick instead of a cigarette. Film crews captured that and just left it alone. Whatever works to keep your liver health and your life a little bit better, right?
Photos by Getty Images