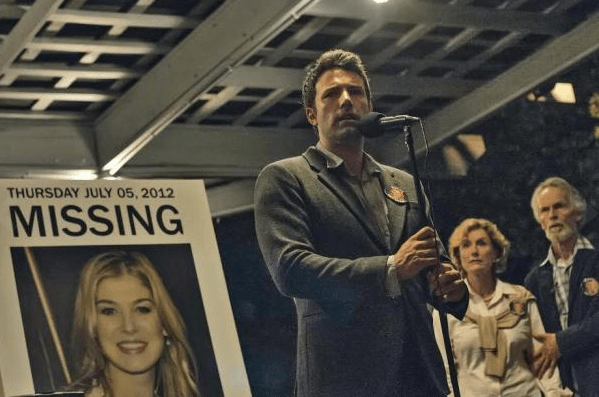 Back in January, Entertainment Weekly did a cover story about the movie adaptation of Gone Girl, Gillian Flynn's bestselling novel about the twisted tale of a runaway wife and and her husband. The movie is directed by none other than Fight Club, The Social Network, and Seven director David Fincher, ensuring the movie will be suspenseful and thrilling. The movie stars Ben Affleck as the Nick Dunne, the husband who wakes up on his fifth wedding anniversary to find his wife missing, with signs of foul play.  Rosamund Pike (The World's End, Pride & Prejudice) plays the titular wife who is missing in action.
Fincher made waves when he told EW that Flynn made huge changes to the novel when writing the screen adaptation. "Ben [Affleck] was so shocked by it," Fincher said, describing how the leading star responded to Flynn's Gone Girl screenplay. "He would say, 'This is a whole new third act! She literally threw that third act out and started from scratch.'"
Personally, I loved Gone Girl but hated the ending, so I would be more than happy to have the final act be completely different. But there are always purists for each book and apparently some were not too happy about this news. During Flynn's Reddit.com Ask Me Anything (AMA) on Tuesday, a participant mentioned that his girlfriend was a big fan of Flynn's novel and then added that she "was disappointed to hear that you were changing the movie up a little when compared to the book."
Flynn responded, "Tell your girlfriend not to worry — those reports have been greatly exaggerated! Of course, the script has to be different from the book in some ways — you have to find a way to externalize all those internal thoughts and you have to do more with less room and you just don't have room for everything. But the mood, tone and spirit of the book are very much intact."
Discussion of Gone Girl dominated the online chat, but Flynn also dropped a few hints about her upcoming projects. She called her next novel, "a big, sprawling American folkloric tale of murder," which Flynn plans to follow with a YA book. She also reported that her first novel, Sharp Objects, "has been optioned again and is in very good hands, so I may have news to report in next few months."
I truly hope the finale of Gone Girl, the movie, is way better than the one in the book. Everyone I know who read the book loved it but was very unhappy with it's ending.
(Photo courtesy of 20th Century Fox from the International Business Times)