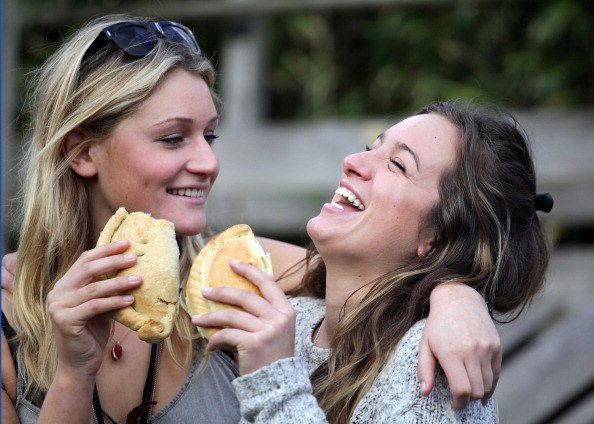 We all say that we love our friends, but we don't get to spend nearly as much time with them as we'd like. Well, I'm not going to say that. Some of us do get to spend as much time with our friends as we'd like, and it's because our lives just blend so nicely together. For my husband and I, we have a group of friends who are all couples who've been married many years like us, our kids are the same ages, and we have the same interests. This means we spend a lot of time together because everyone wins; the husbands have one another, the wives all get along, the kids love one another, and most week nights and weekends are spent doing something with these people. It's nice; for us and our kids. What's nice about our group is that there is a lot of laughter. This is a group that will do anything for one another and their kids, and support is something we all have. It's a lot of love, and a lot of happiness – and that's what makes life sweet. We have fun, and we sometimes even have fun without spending much money at all, which is always nice. So if you're looking to have a good time with your friends but you don't want to spend a fortune, we have some creative ideas that will allow you to spend more time with the people that make you happiest.
Make a Pinterest Project
Get the girls together and try making that one thing you've all pinned and said you were going to do. It could be a craft, a recipe or whatever you decide you all want to try. Just try it. Chances are good that the materials/ingredients are inexpensive, which means you'll have fun without spending much at all.
Have Game Night
This is the most fun. Wait til the kids go to bed or get a sitter for the evening and have your friends over for a game night. Allow me to suggest the Heads Up game app on your smart phone or iPad. It's too much fun, and we have some of the most hilarious memories playing this game. It literally never fails to make us all laugh hysterically and then repeat stories over and over the following day.
Create Your Own Wine Tasting
This is a fun activity that won't cost much. Assign everyone a bottle of wine and a cheese that goes with it and then bring everyone together to try it. It's less than $20 per person if you keep the budget low and you can all try something you've never tried before, which is what makes it fun.
Have a Dessert Party
Who doesn't love a reason to get together and eat crap? We all do, so make it happen. Have everyone make a different dessert, bring it over and have samples. It's a lot of fun and it's a really good reason to get together and enjoy some good company and great conversation. That's all you really need, anyway. Just friends, fun and food. The triple F.
Play a Game of Ball
This is one of my favorite things to do. As someone who grew up playing softball when cheerleading was not in session, I miss the game. I love getting everyone together and going to the field so we can play, and it's so much fun. It's a good time. There might be coolers and some really cold beverages on hand to make it even more fun, but we always have a great time and everyone enjoys this particular day.
Go on a Picnic
If you're like us, you love to be outside. Of course, this could be because that's just what you do when you live in Florida. Outdoor living is a must, and we love to be outside. And we love to dine outside. I don't mean picnic in the grass, unless that's what you like, but I do mean take dinner outside to the porch table and dine in the great outdoors when the weather is fabulous; you might be surprised just how enjoyable it is to do nothing more than eat outside.
Take in a Fun 5K
These are really inexpensive and a lot of fun. We are doing a color run in May with our friends and with our older kids, and we are so excited about this venture. It's something we can enjoy, have fun with and make happen without much effort. It's also something that we don't normally do, so that makes it outside the comfort zone and even more fun.
Host a Fashion Exchange
If you and your friends are around the same size, why not clean out your closets and make this happen. It's like getting a new wardrobe for nothing. Clean out what you don't want anymore and have your friends do the same. Then get together, hang everything up and have a shopping party in everyone else's stuff. It's so much fun and it's a lot cheaper than actually shopping. You get new stuff, get rid of old stuff and you get to be happy.
Have a "Kid Again" Party
I'm going to share with you the most fun thing you will do each year. We've been doing this every summer for many years now with our friends. You can make it less expensive by having everyone pitch in on the cost, if you'd like. We have a big party in which no kids are invited. It's just parents. We rent the same bounce houses, slides and obstacle courses we always rent for the kids when we throw their birthday parties, but we get to use them. It's so much fun, and it's a blast. Competition, we order pizza, we swim in the pool, we have the slip-n-slides out, and we use the bounce castles and other stuff just for adults – and it is so much fun to be a 'kid again.'
Have a Movie Day
It's relaxing and fun, and it's free. Just get together and see a movie that just came out everyone is anxious to see. If you don't want to do a movie, pick a season of something on Netflix and get busy watching what happens and become addicted. It's fun and it's free.
Photo by Matt Cardy/Getty Images