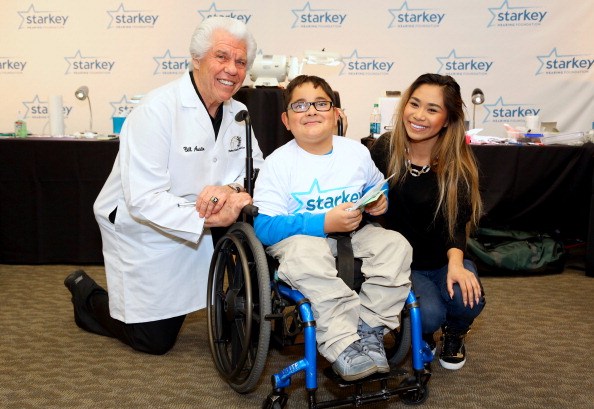 Is charitable giving really selfless? I debate this with myself all the time; most of us are happy to give to charity, but is it so that we can help others in need or so we can help ourselves? Personally, I don't find charitable giving nearly as selfless as some people believe it that it is. Why? Because when I donate to charity, I feel really good about me. I feel good about what I've done, I get a tax break and I'm benefitting from the situation as a whole. My husband and I take part in a number of charities around our community, and giving back always feels good. But it also always includes a good time, cocktails, enjoyment, socialization, food and entertainment for us. Even things that don't turn into date night, such as sponsoring a child to go to Washington DC for his fifth grade trip was something that we didn't get anything out of, yet we did; we felt really good about us. It's not selfless, but that doesn't change the fact that it's the right thing to do.
With that in mind, I come across a number of people who often tell me they wish they could donate money to charity, but they haven't the financial ability. That's when I'm inclined to tell them that they need not donate a dime; there are so many other ways that they can donate to charity without spending a dollar, and I'm happy to share those with you so that you can do your own part and feel good about yourself, too.
Donate Time
Whether you want to serve food to the homeless or take the time to adopt a little brother or sister, you can spend your time helping charities in need without ever spending a dime. It's a wonderful way to give back to the community without offering money you might not have.
Donate Old Canned Goods
We all have a pantry filled with things we will never use again, we have had forever and that will never expire. Go ahead and make some space in your pantry by cleaning out what you have and giving what you no longer want to a charity in need. It's a simple way to give back.
Donate Items
If you have old clothes, furniture or items that are in good condition, donate them. Even if your local charity cannot use them for anything, they can sell them and use the money they earn from the sales to help their cause. It's a simple way to give back, to help and to take part in giving back to the bettering of your community.
Donate Cars
Did you know that old cars you owe no money on make great charitable donations? Most charities will use these vehicles for parts or even auction them off to raise funds to help those in their care. Some will use old vehicles such as vans and cars and trucks to give to those in need of reliable transportation so that they can get to and from work.
Donate Services
Charities are always looking for services donated to them for causes. We love the concept of taking what you have to give and offering it to a local charity for a bid. For example, if you own a spa, donate a free massage to a silent auction. If you are a mechanic, offer to change someone's oil free of charge at a silent auction. You can always donate your services to those in need.
Foster an Animal
Not all charities focus on human beings, and that's what makes animal foster care families so rare. Your job would be to take in an animal that needs shelter when the local shelter is too full to take him in. You will temporarily house and love this animal until room is made at the shelter or until his or her forever family finds him or her.
Become an Organ Donor
It's the simplest thing you can do, and it takes no time. All you have to do is head to the DMV to ask if you can change your license information to become an organ donor so that if it's possible, your body parts and organs will go to someone who needs them to maintain life when you are gone. You could save lives this way. The gift if life is worth far more than money.
Donate Blood
Hospitals need blood to give to patients who need it from time to time, and they rely on people like you and me to donate ours so that they can do that when it's needed. To donate blood, you can find a blood bank and fill out the paperwork. Of course, you cannot give blood if you have any diseases, but you can have your blood tested to see if it's worthwhile, and you can regularly donate so that you always know someone is benefitting from your time.
Donate Electronics
Students and schools in need – and even families in need – need electronics this day and age. You might get a new computer every few months, but there are kids all over the country struggling to learn without good electronics. Donate your old electronics to charity so that they can go to those who need them to learn, such as schools. These can make a huge difference in the education received by students, and they can change a life forever.
Host an Event
You don't have to pay for it to host it. Do you have a large home or a big piece of land on which someone could throw a charitable event that will help raise money and awareness for a worthwhile cause? If you do, you can donate your time, your space and your assistance to a charity so that they can throw an event that will bring in much needed revenue. It won't cost you anything but time to do it, but it will mean the world to someone in the world who needs what that charity will provide.
And remember, your supporting charities also serves to teach kids about philanthropy.
Photo by Rachel Murray/Getty Images for Starkey Hearing Foundation