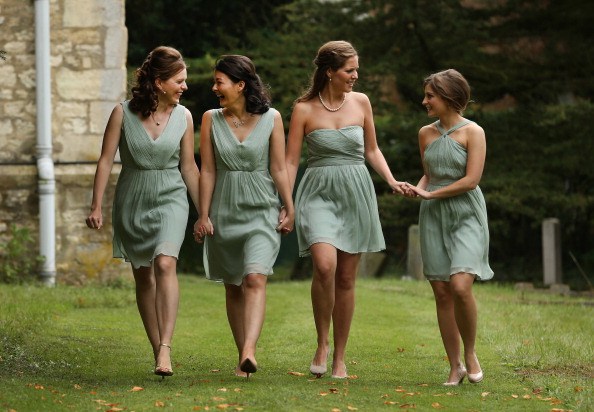 The moment your girlfriend gets engaged and asks you to be part of her big day is a beautiful moment. It solidifies the role you play in her life and the love she feels for you, but it can also change the entire dynamic of your friendship. How much does she want you to do? Does she expect you to be there every second of every day? Does she expect you to spend thousands of dollars on her big day? What does this mean for you, what do you do, will you hate the dress, will she be a pretentious nightmare as a bride? But most of all, you will wonder whether or not your friendship will suffer throughout this process. I can't tell you if it will or will not, but I can tell you that you can expect to be inundated with moments and things you aren't going to love. It's all part of being a bridesmaid, and it's just what usually happens to all bridesmaids. With that in mind, here are some of the most annoying things about being a bridesmaid. Perhaps this will give you the momentum you need to politely decline the role.
Passive Aggressive Comments from Women Not in the Bridal Party
There is always that one friend or woman who just wanted so badly to be a part of the wedding party and wasn't asked, and boy is she taking that out on you. Part of you wants to tell her to take your place so that you can make it all stop, but you can't. So you sit back and listen to the passive aggressive, "I get that brides want to choose bridesmaids who won't outshine them in their photos and on their big day," comments. Just remember what Taylor Swift always says (at least 98 times a day on the radio), "Haters gonna hate hate hate hate hate."
Paying for Things
There are so many things to pay for when you are a bridesmaid. It's almost ridiculous. I'll tell you that you need about $2500 these days to be a part of the wedding, and that's probably low for some. Maybe you'll get lucky and have a bride-friend that doesn't care what shoes you wear with your affordable J. Crew dress and doesn't nit pick about hair and jewelry and all that good stuff. Maybe – don't count on it.
Paying for a Dress You Hate
And here is one of the worst things about being a bridesmaid. Not only do you have to spend a lot on a dress, it's absolutely going to be a lot of money spent on a dress you just don't like. You'll never wear it again. You'll hate it when you do wear it. It won't flatter, it just never does. They're very rarely ever pretty dresses, and it's just one of those things that life is all about.
Dress Shopping Every Weekend for Months
My dress was the second one I tried on. Of course I tried on a dozen that day, but I found my dress, I bought it and we were done shopping and cocktailing at a local restaurant within 3 hours. My bridesmaids loved that. And then I was a bridesmaid for one, and that meant heading to the bridal salon every weekend for months. It was really annoying, and it was tiring. I mean, we get it, but just pick one already.
Bridezilla
If you're lucky, this will not happen to your friend. If you are not lucky, you will deal with this crazy lady until she says her vows, maybe a few weeks after, and then your friend will be back. The question here is whether or not you will ever want to see her again. It happens to the best of women, and it's sad and unfortunate. My advice is to keep your head down and don't make eye contact. If you're brave, call her out on her BS and make it stop. But, you know, good luck.
Matchy-Matchy Everything
Shoes, jewelry, hair clips, undergarments. I mean, she wants you to match every single detail of your outfit down to the color of your toe nails with the rest of the bridal party on her big day. It's expensive; just be prepared for that kind of expense.
Planning a Shower
This one isn't annoying; but it's borderline annoying. When someone close to you gets married, you want to plan a shower for her because you want to celebrate with her. The issue is planning a party knowing you have to plan more parties and knowing you are paying so much just to get dressed the day of the wedding. Added up, it's a lot of stress and it makes the bridal shower planning a little less enjoyable.
Planning a Bachelorette Party
The bachelorette party planning is stressful as a general rule. You have to respect that the bride might want something no one else wants to bother with (weekend in Vegas, anyone?) and that you have to please everyone. Well, it's not going to happen, and that's what's annoying about this weekend. Add to that the fact that you're about to become a glorified babysitter for a night or weekend and all bets are off.
Doing the Dirty Work for the Bride
She doesn't want so and so to bring a guest, but she doesn't want to tell them herself. So guess what? She's going to ask you and point out that it's part of the bridesmaid rules. You might have to do it, so be prepared for that. You're always free to say no, of course, but you have to be willing to make that decision.
The Me Me Me Me Me
We all get a little me, me, me, from time to time and that's all right. But it can be tiring to a bridesmaid when the bride forgets that other people have things going on and that their lives do not revolve around her wedding. Just remember that when it's over, you'll get your friend back and better than ever.
Photo by Peter Macdiarmid/Getty Images